Wonderful Turnout at EHHS Capstone Expo
Image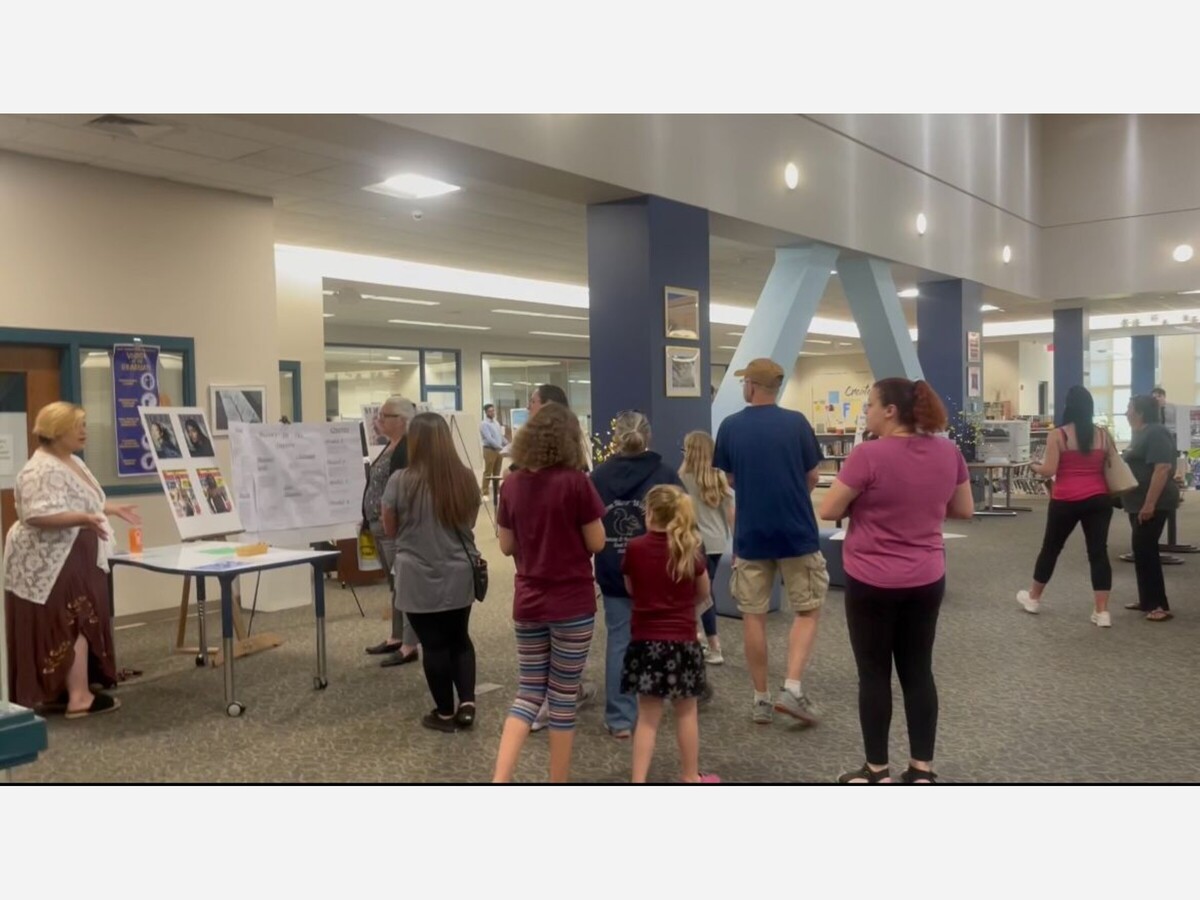 On May 11, 2023, at EHHS with the help of Mrs. Robinson, staff, students, and administrators had a great successful turnout at the Capstone Experience Expo.
At EHHS, an important graduation requirement is having to choose a capstone project. EHHS offers many different ways to complete your capstone. EHHS's Library Media Specialist, Mrs.Robinson offers a capstone experience class where students can do a project that is self-selected that would help them develop and use their leadership, interpersonal, and research abilities. In her class, students can pick anything they choose like a community service project, research project, or something they can build. Many students feel pressure to do their capstone to graduate but Mrs.Robinson has a different take on that. She states, "I think kids look at it like it's a need but I almost think for me they can pick so many things to show that they are ready for the world and that they are ready for college if they choose or the work world. I think of it as more of an opportunity than a need". After completing their capstones they must present their capstone project at the capstone expo, a night where students get to present their projects to staff, family, and friends.
Many students presented their capstones at the expo and here are four seniors who shared their experiences. Senior Amareen Singh created goal-directed and resilient learning through technology. He taught computer proficiencies and troubleshooting to kindergarteners at Deer Run. He used visual models to make it more suitable for them to understand and learn. Amareen states his experiences, "I had a great experience since it went above my expectations. The students were able to retain what I taught them and were able to use it on their own. I think I did really great." Senior Jolee Jaramillo organized a Movie Night Fundraiser to raise money for the breast cancer research foundation. She wanted to bring the community together for a night of entertainment whilst also bringing awareness to such a great cause. To make the fundraising event a success she arranged for a variety of snacks and drinks to be sold. Additionally, she made sure that QR codes were easily accessible so that anyone could scan and donate any amount they wished to contribute to the cause. She had to make the flyers, check with technology, and promote it to the best she could by emailing people and also making a social media account dedicated to this project. Jolee states, "Millions of people every day suffer from breast cancer and this foundation donates millions of dollars towards research in the hopes of one day finding a cure. I also wanted to dedicate something to my mother since she had a few breast cancer scares a long time ago. It was heartwarming to witness the community's support and generosity towards the event, which not only helped us reach our fundraising goal but Raised $326 for the BCRF." Senior Lily Gagnon went to the second-grade classrooms at Deer Run and taught them about kindness and then had them paint kindness rocks. Lily states the reason she chose her capstone is because she doesn't see a lot of acts of kindness anymore and reaching out to a younger part of our community to be kind and teach them about it would carry it up. Lily states, "My experience during capstone was very nice. It let me connect with parts of my community and share what I thought was important for people to learn about." Senior Diya Patel chose to hold an Easter egg hunt fundraiser for the Yale New Haven Toy Box. She states she chose to do this because "I know what it is like to be sick and be rushed to the hospital as a child. As a senior, I knew I wanted to do something to help sick children and to also put a smile on their faces. Helping children is something I am very passionate about and want to incorporate into my career after high school."
Other than Mrs.Robinson there were more helping hands to make this expo a success. The whole art department was involved in the night. The whole staff, including the custodial staff, was integral in helping put this together. Administrators Mr. DeNuzzo, Mrs. Farotti, and Mr. Russell, were supportive and Ms. Lutar helped make the event even more engaging by having the school store, The Buzz Stop, open. Many family and friends came to attend. Mrs. Robinson states, "Overall it went very well, I am pleased and I hope to make it even better next year." Another interesting part about the night was the younger kids were able to see their artwork while seeing a glimpse of their future academic experience. Everyone's contributions towards the capstone expo lead to a successful and enjoyable night.