EHHS Class of 2023 Shares Their Final College Decisions
Image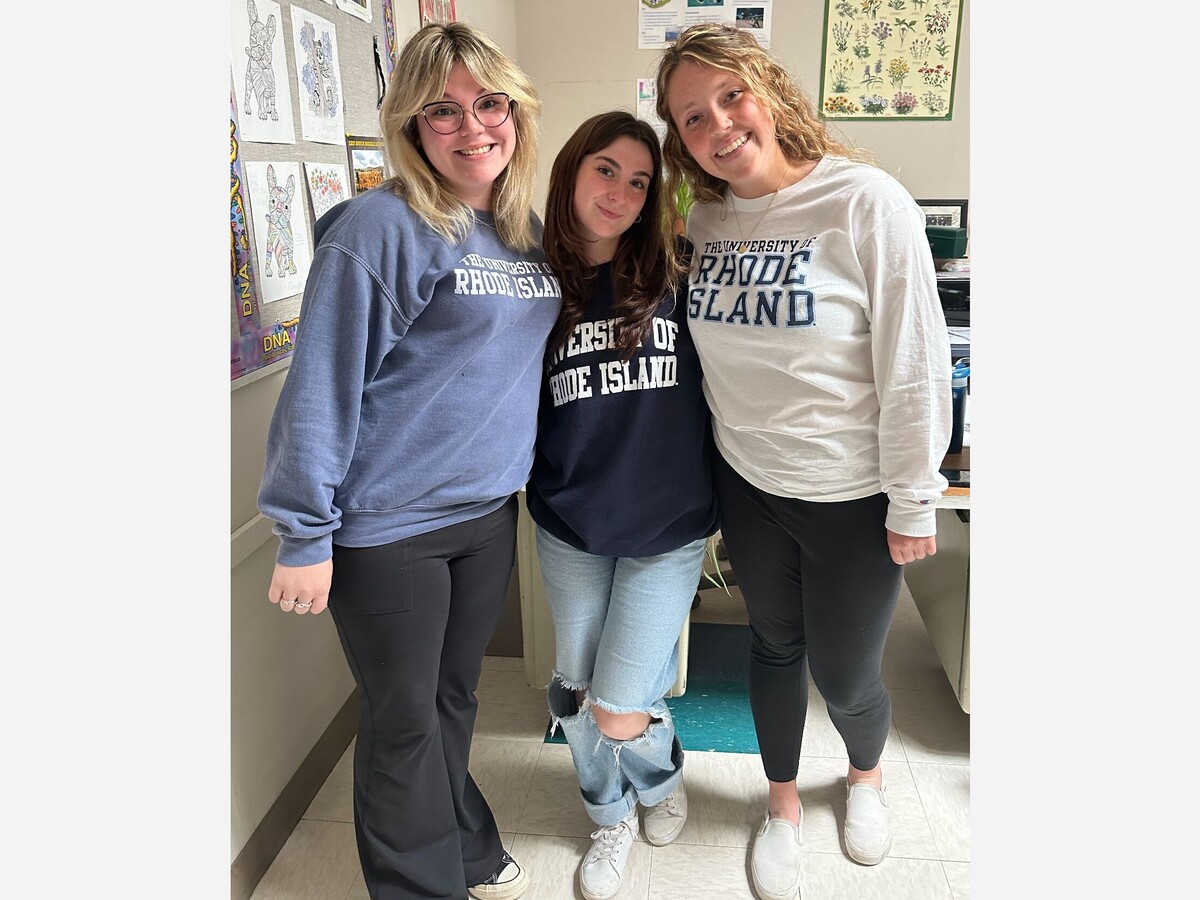 EHHS seniors made their final college decisions on May 1, 2023. EHHS Class of 2023 will be attending various schools such as University of Connecticut, University of Rhode Island, Southern Connecticut State University, Gateway Community College, Sacred Heart University, and many others.
---
Bella Balseiro

Bella Balseiro will be attending Southern Connecticut State University in New Haven, CT with a nursing major. Bella wants to be a traveling registered nurse in the future. She chose SCSU for their nursing program and because she wants to stay close to home with her family. Although she is nervous to become more independent while in college, she is excited to get closer to her life goals. Some advice Bella would like to leave to underclassmen is "make sure you're looking at the programs thoroughly and do a lot of research into what the schools have."
Vinnie Apicella
Vinnie Apicella will be attending Sacred Heart University in Fairfield, CT with a criminal justice Major. As the News Editor for The Comet, he decided he will be double majoring in journalism alongside criminal justice. Vinnie would like to be a lawyer and chose SHU largely because of their band program. Vinnie wants underclassmen to know how important it is to research possible schools and their programs so they don't make the wrong decision for them.
Ava Maroney
Ava Maroney is going to University of Rhode Island in Kingston and will be in the honors program majoring in psychology. Ava wants to pursue a career as a child psychologist as she loves working with kids and hopes to make a positive difference in someone's life early on. Ava says there are many opportunities to work with kids at URI as well. Ava is nervous to break out of her comfort zone at college but is still excited because she loves the location. Ava wants underclassmen to know that starting applications and research early on is very important to reduce stress.
Amelia Westfall
Amelia Westfall, EHHS Class of 2023's salutatorian, will be attending Providence College in Rhode Island. Amelia would like to be an author and will be majoring in classics. Amelia says "I have a passion for ancient history and its impact on the modern world, and until I can write full time, I want to work in history." She wants underclassmen to know to start the process earlier, be honest, and focus a lot on supplemental writing.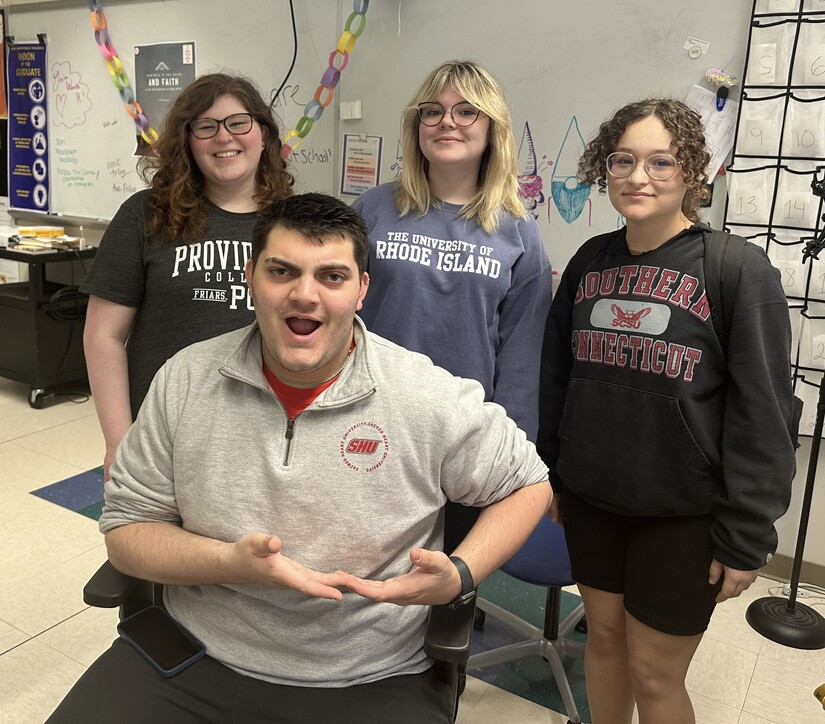 Lily Gagnon
Lily Gagnon is going to Bridgewater State University in Bridgewater, MA playing division 3 softball with a major in health science: pre-physical therapy. Lily wants to be an athletic trainer one day. Lily is excited to go to BSU for a fresh start and a new environment and she says she is "not nervous at all." Lily says underclassmen "shouldn't go solely based on their instincts and to make sure to do their research."
Glerys Ramirez
Glerys Ramirez is attending SCSU with a major in criminal justice. Glerys would like to be a lawyer because she wants to make a difference in people's lives. She chose SCSU for the criminal justice program as well as the low cost. Glerys also wanted to be close to home as she would miss her family, especially her dog. She is nervous to become independent but overall very excited for new opportunities. Glerys would like for underclassmen to know to hand everything in on time during the college process.
Mia Flores-Soto
Mia Flores-Soto will also be attending SCSU this fall. Her major is in nursing as she wants to "expand the healthcare system as a bilingual nurse." She also might want to minor in health science to help reach the goal of universal healthcare in the U.S.. Mia's favorite part about SCSU is the diversity in both the classes available and student population. Mia is very excited to be a first generation college student and "contributing to the 4% of latinas pursuing a college degree." Some advice Mia would like to give is "focus on your essay because it's a huge aspect of the application process and do not forget to do extracurriculars."
Annora Sayers
Annora Sayers will be going to URI with a major in environmental science. Annora chose environmental science because she knows she can make an impact on the world in this field. Annora chose URI for their campus and environmental science program. Annora is very excited to start a new part of her life and wants underclassmen to know that they should think about their college choices as soon as possible.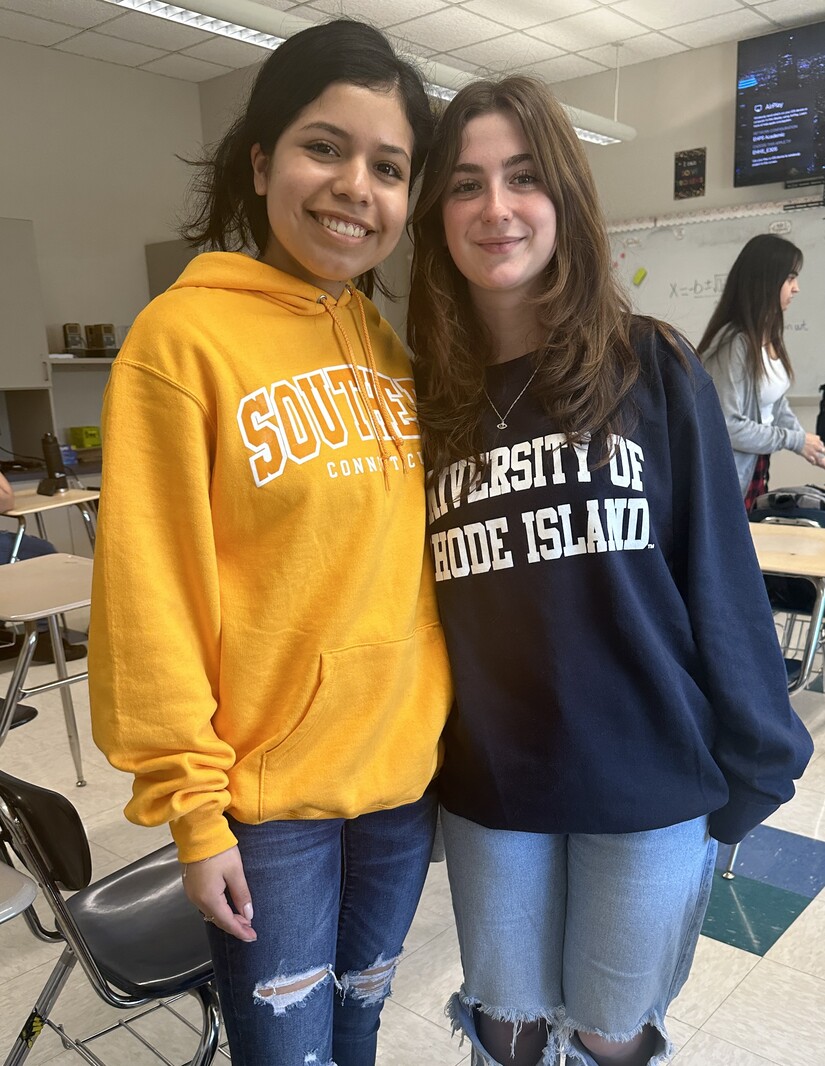 Izabella Olszewski
Izabella Olszewski, EHHS Class of 2023's valedictorian, will be attending University of Connecticut at the Storrs campus. Izabella is currently an accounting major but is also interested in finance. Izabella enjoys math and has always wanted to further her education and earn a college degree.
Courtney Carvajal
Courtney Carvajal will also be going to UCONN at the Storrs campus. Courtney will be majoring in political science and plans to go to law school. Courtney also chose UCONN for the opportunities to study abroad and meet new people. Courtney would like to become an immigration attorney to give back to her community and help others like her family.
Camille Dudley
Camille Dudley will be attending SCSU and majoring in art education. Camille would like to become an elementary art teacher because she wants to "bring out the creativity in kids." Camille chose SCSU because she sat in on an art class and loved "the vibe" of the class. Camille says the students and professor were very inclusive and nice. Camille wants underclassmen to know that filling out forms sooner than later will reduce a lot of stress.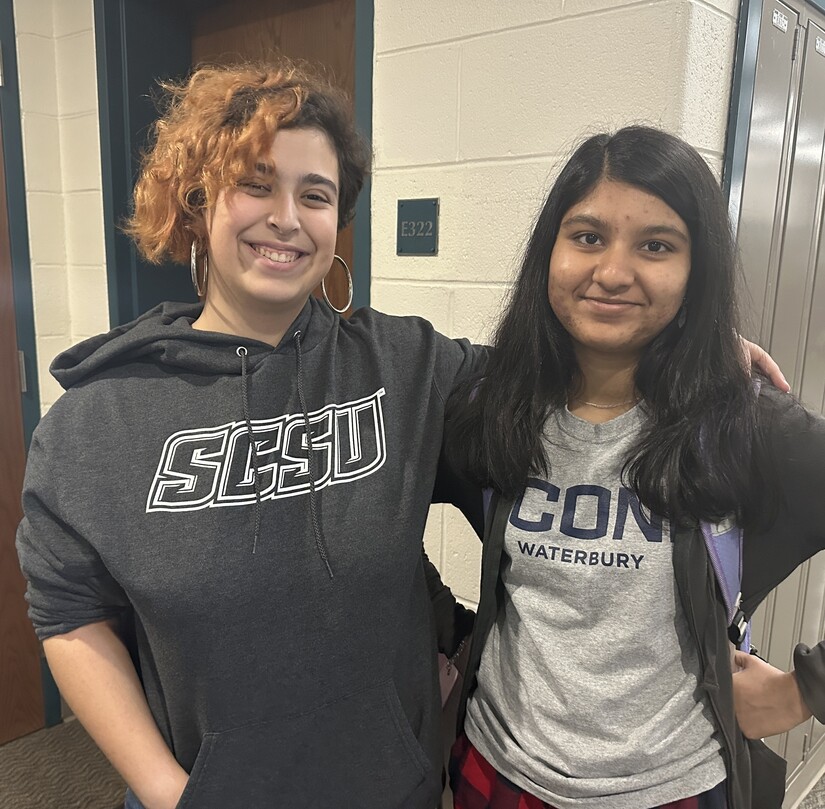 Alexis Serafin
Alexis Serafin will also be attending SCSU. Alexis will be majoring in nursing and plans to become a pediatric nurse. Alexis also plans to try out for the division 2 dance team and she chose SCSU for their nursing program and dance team. She is nervous to be in a new school and pursue nursing as it is a difficult major. However, she is happy that she will have a more flexible schedule and is excited to hopefully be on a college dance team. Alexis wants underclassmen to know that applying to college early action is a good choice as the acceptance rate might be higher.
Adriana Esposito
Adriana Esposito will be going to URI in the honors program. Adriana will be majoring in industrial engineering with a minor in robotics. Adriana plans on trying out for the division 1 cheerleading team as well. She would like to own an engineering business one day but is not sure what kind of business. Adriana's favorite part about URI is the atmosphere. She says "the town is nice and I feel like I'm at home." She is nervous about the amount of work she will receive in college but is still excited to meet new people and start a new chapter. Adriana wants underclassmen to know that starting the college process as soon as possible is very important. She says "you don't want to be stressed about college while doing your school work."
Abby Brooks
Abby Brooks is attending URI as well. Abby has always loved the ocean so she will be majoring in ocean engineering. Abby's biggest goal is to travel and wants to do a fifth year of college abroad. She says "I am not scared to leave home but I know it will be a big adjustment once I'm there." Abby chose URI because she loves the atmosphere and the campus and says she always planned on leaving CT and is happy to experience a new change. Abby wants underclassmen to know that they don't have to be "dead set on a dream school" and they don't have to visit a school to apply.
Santiago Zapata
Santiago Zapata is going to the University of Tampa in Florida. He will be majoring in finance and plans on working in the financial industry. Santiago chose Florida because he loves the weather and wanted to move far away to be more independent. Santiago's favorite part about UTampa is the business program, the fun environment, the pool and river walk on campus. He says he is not nervous to go to college and is eager to make new friends and be independent. Santiago would like for underclassmen to know that they should visit a school before deciding to go there.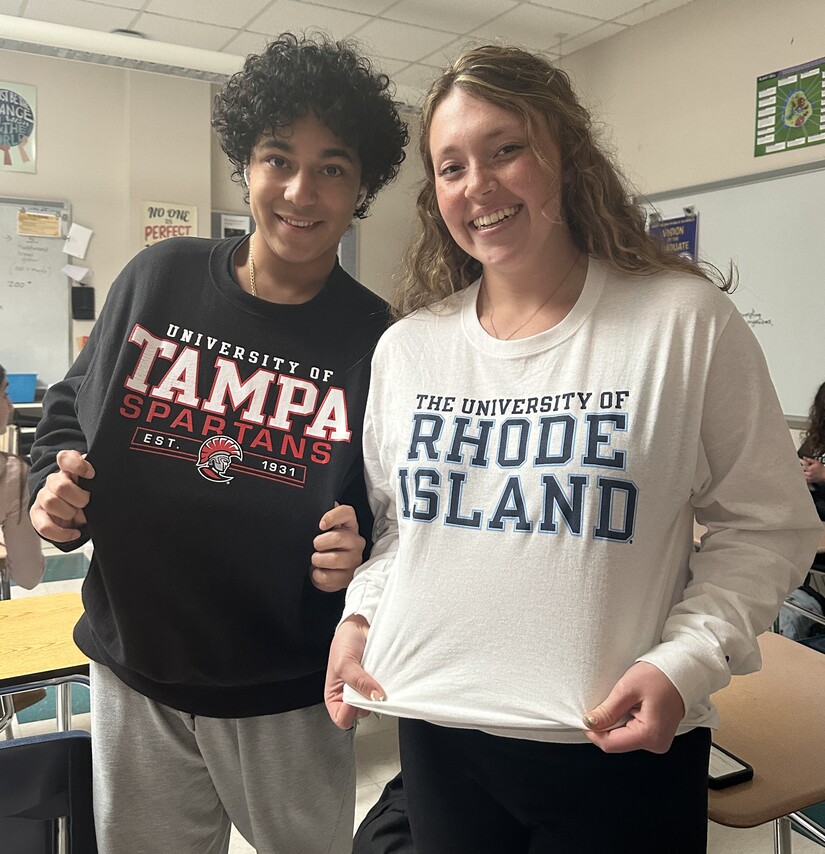 Jessica Urban
Jessica Urban is attending Quinnipiac University in Hamden, CT. She chose QU for their excellent radiology program and because it is located near her old hometown. Jessica also loves that QU has club sports and plans to be a part of club running in the winter and spring. Jessica will be majoring in radiologic sciences and wants to become a radiology technician and eventually a radiologist. Jessica says underclassmen should push themselves to get everything in on time.
Madison Lavorgna
Madison Lavorgna will be attending Gateway Community College in New Haven, CT and then transferring to UCONN at the Stamford campus. Madison chose community college because it is financially better in the long run. She will be majoring in hospitality and business because she says it covers a wide area of studies and she is unsure about her career path.
Gianna Bernovich
Gianna Bernovich will also be going to Gateway and later transferring to a 4 year college. She chose Gateway because she says it is financially better and can give her the same experience as a 4 year college. Gianna is currently undecided but her goal is to make a difference in other's lives and wants people to see how good life can be. Gianna says underclassmen should know what they're capable of and should not set expectations too high.
Madelyn Camera
Madelyn Camera is going to SCSU and majoring in health science with a minor in communications disorder. Madelyn would like to become a speech pathologist in the future as she loves the idea of helping others. Madelyn chose SCSU because it is very inexpensive compared to other options. She says underclassmen should make sure to get ahead of applications to reduce stress.
Julia Crisci
Julia Crisci is attending Coastal Carolina University in South Carolina. Julia is majoring in marketing and wants to work with professional sports teams. She loves the campus and the location as the school is right near Myrtle Beach. Julia is nervous to figure things out without family and friends nearby, but is still excited. Julia leaves the advice to underclassmen that getting involved in school is important for college applications.
Kadence Sabatino
Kadence Sabatino is attending the State University of New York in New Paltz. Kadence chose SUNY New Paltz because she feels "it is a direct reflection of my personality." She says it's both fun and bright. Kadence is studying international politics and women and gender studies. Kadence's goal is to help change the world by being educated.
Autumn Clancy
Autumn Clancy will be going to Springfield College in Massachusetts. Autumn will be majoring in Physical Therapy. She chose this major because she has attended physical therapy herself and wants to help as many people as possible. Autumn says she fell in love with Springfield College "as soon as [she] stepped foot on campus."
---
Although students are going in many different directions, these college decisions wouldn't have been possible without the support students have received from EHHS.