The New HiveTV Premiered and Airs Biweekly During Flex
Image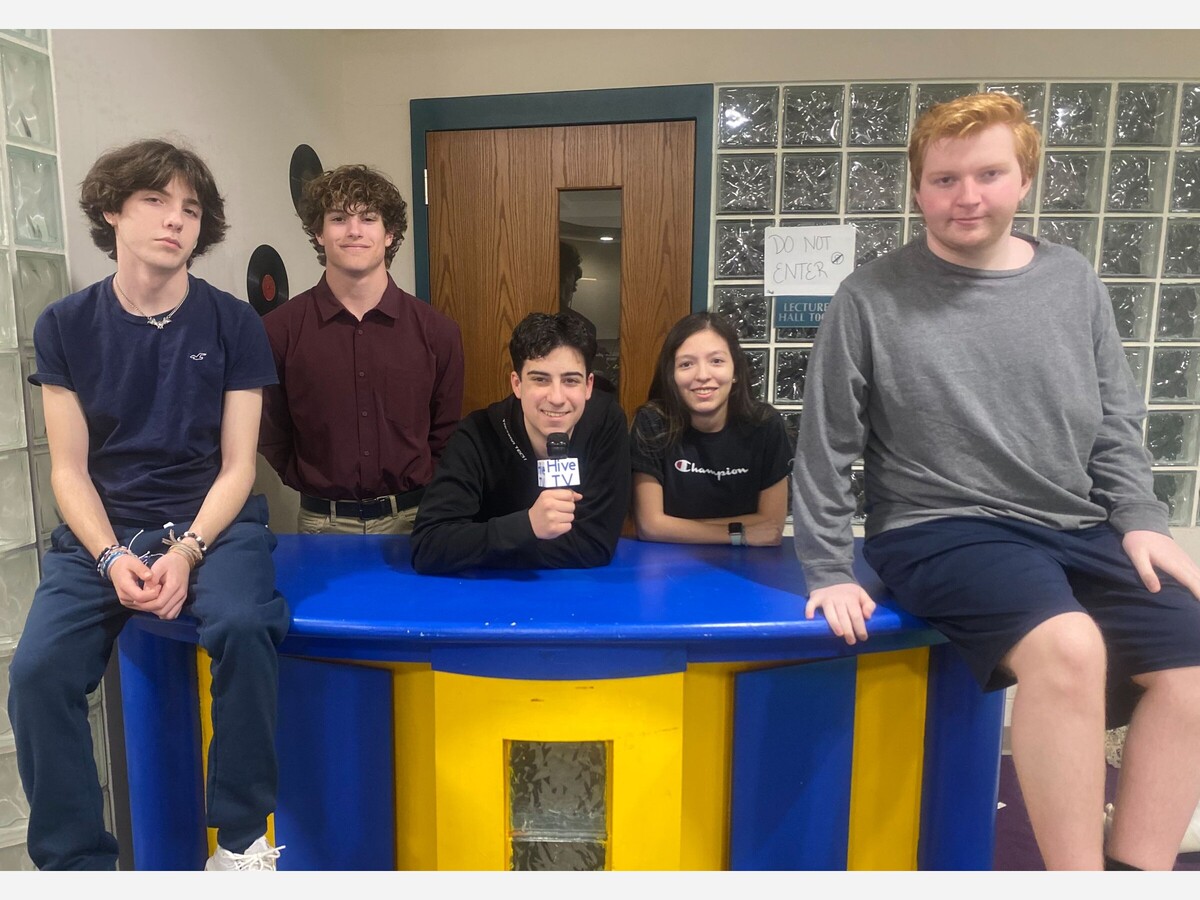 Ms. Spinelli's block 4AC News and Broadcast Journalism class premiered the new HiveTV during Flex in March 2023. The class consists of five students and is the third level of Video as well as a Capstone/Mastery-Based Diploma course. Episodes are set to air biweekly but often take 2-3 weeks to complete. The idea of bringing back a school news show was brought to the class by administration and the name was pitched to the class by junior anchor Tory Teto, who took inspiration from the HiveCafe. The class voted and agreed on HiveTV, beginning the long process of creating the program.
Designing, creating, and editing an episode can take a while, but Ms. Spinelli's students have proven to be extremely efficient. The longest part of the process is editing and scheduling interviews; students often spend their FLEX block in interviews and editing. Throughout the course, five students work together to schedule interviews, film, and edit these episodes consistently within two weeks in order to maintain timely releases. Additionally, these episodes must be reviewed by administration before they can be released during FLEX and East Haven's public access channel, E-TV. To achieve this, each student is given a role. These roles include the anchor, producer, interviewer, editor, and on-camera personalities. Before the processes for each episode begin, the group holds a meeting where they pitch ideas and discuss what they want to focus on for the upcoming episode. Spinelli mainly focuses on making these meetings fun but also productive and efficient.
Students are already talking about HiveTV and its growing impact on the school community. EHHS senior Izabella Olszewski admired the work put into each episode saying, "I think they do a good job at making it interesting with the multiple topics, editing, and different camera angles." While senior Lily Gagnon commented on the effectiveness of the team's approach saying, "I think that it will be a fun way to be able to enjoy watching our classmates have some fun while also learning about what's going on in the school." Ms. Spinelli hopes that more students will begin to look forward to HiveTV's new episodes every two weeks and for it to expand into the community as well. Within the next few years, Ms. Spinelli hopes for more students to get involved with HiveTV by joining her News and Broadcast Journalism class, which is one of the more hands-on courses within the school.