2023 EHPS STEM Competition
Image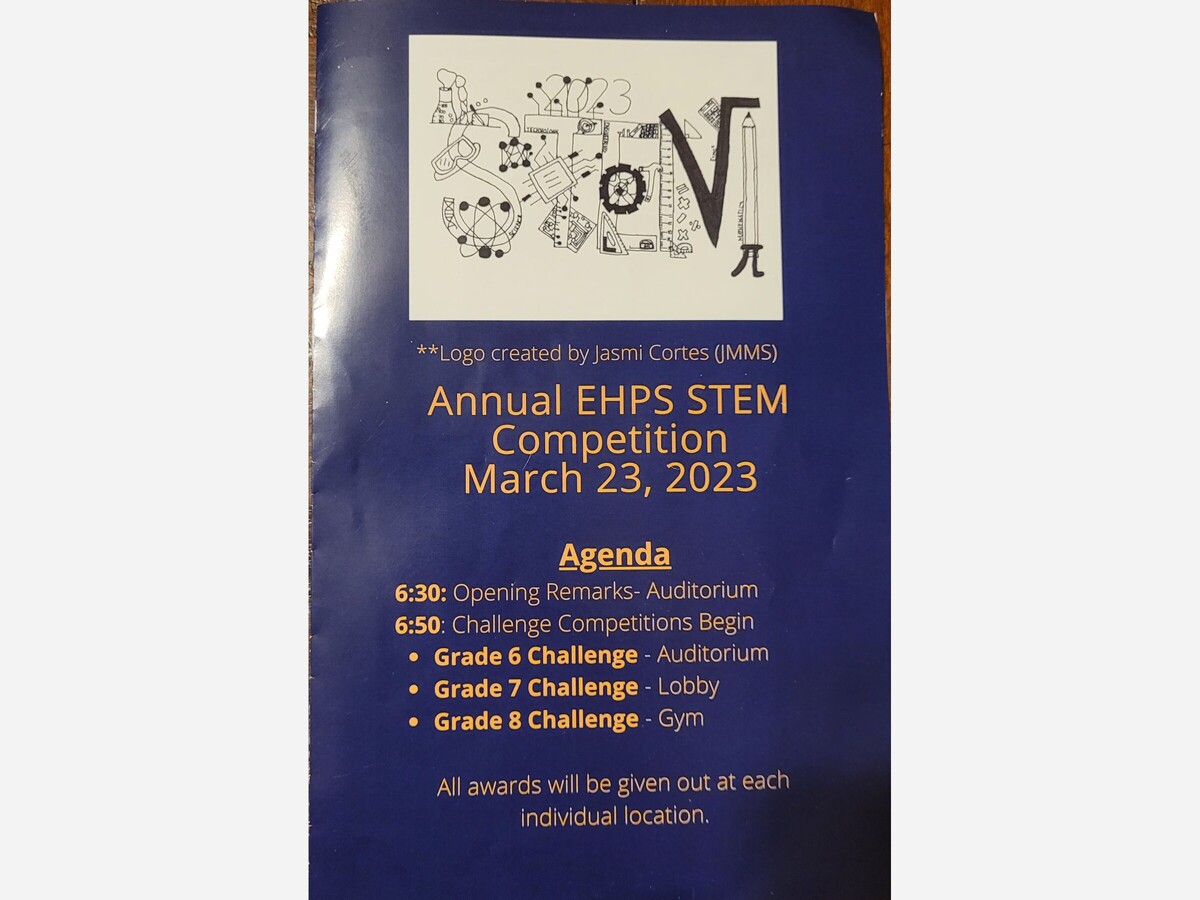 On the 23rd of March, EHPS hosted this year's STEM Competition at EHHS to introduce middle school students to engineering.
STEM stands for Science, Technology, Engineering and Mathematics. STEM became very popular in the 2000s. It tends to focus on developing critical thinking skills and working on problem solving. These STEM competitions were created by Ms. Marilee Noonan, the previous science instructional leader before Mrs. Maria Pompano. The event is open to the public and fills up fast with family, friends and people from our community. 6th to 8th grade students participate in this event and it is hosted in the high school because of the large space in the foyer, gym and auditorium. Each grade has different projects to test their problem solving skills.
Grade 6 works on creating a building that can survive an earthquake. They use only materials given to them by the teachers to create structures that can withstand an earthquake. Grade 7 students create paddle boats. The goal is to make the boats buoyant and move a few feet in water. Grade 8 students build a car out of mouse traps. Their goal is to make the vehicle drive straight and far. Each grade is required to make a Tinkercad which is a 3D model on the computer.
Having students participate in these activities gives the students opportunities to learn about failing and overcoming problems. While the teachers want to teach about science, they also want the students to build life skills. According to Mr. William Tomassi, 6th grade science teacher at JMMS, through these events, the teachers learn more about their students so they can build their curriculum around them.
1st place Grade 6 winners:
Survival - Christopher Errico, Ava Cohen, Cooper Rome (EHA)
TinkerCad - Emily Putney, Arianna Rocha, Ava Connors (EHA)
1st place Grade 7 winners:
Speed - Jake Mulligan and Allen Vincent (JMMS)
Distance - Alanis Villegas, Miranda Huaman, and Nia Moss (JMMS)
Creativity - Samantha Horton, Carolina Alvarado Galindo, Nicole Garcia Gomez (JMMS)
TinkerCad - Stella Butler, Mallory Rey, Emilia Gray (EHA)
1st place Grade 8 winners:
Speed - Nicholas Cinquino. Leidy Corriales Canon, Amiya Harry-Esposito (JMMS)
Distance - Elizabeth Boothe, Michelle Gomez, Hannah Prete (JMMS)
Creativity - Stella Fratantonio, Chloe Viglione, Amanda Lesco (EHA)
TinkerCad - Gabby Otto, Soleil Layedra, Lily Hubbell (EHA)
Congratulations to all the participants and winners.