EHHS Buzz Stop and Its Expansion to the Buzz Stop Too!
Image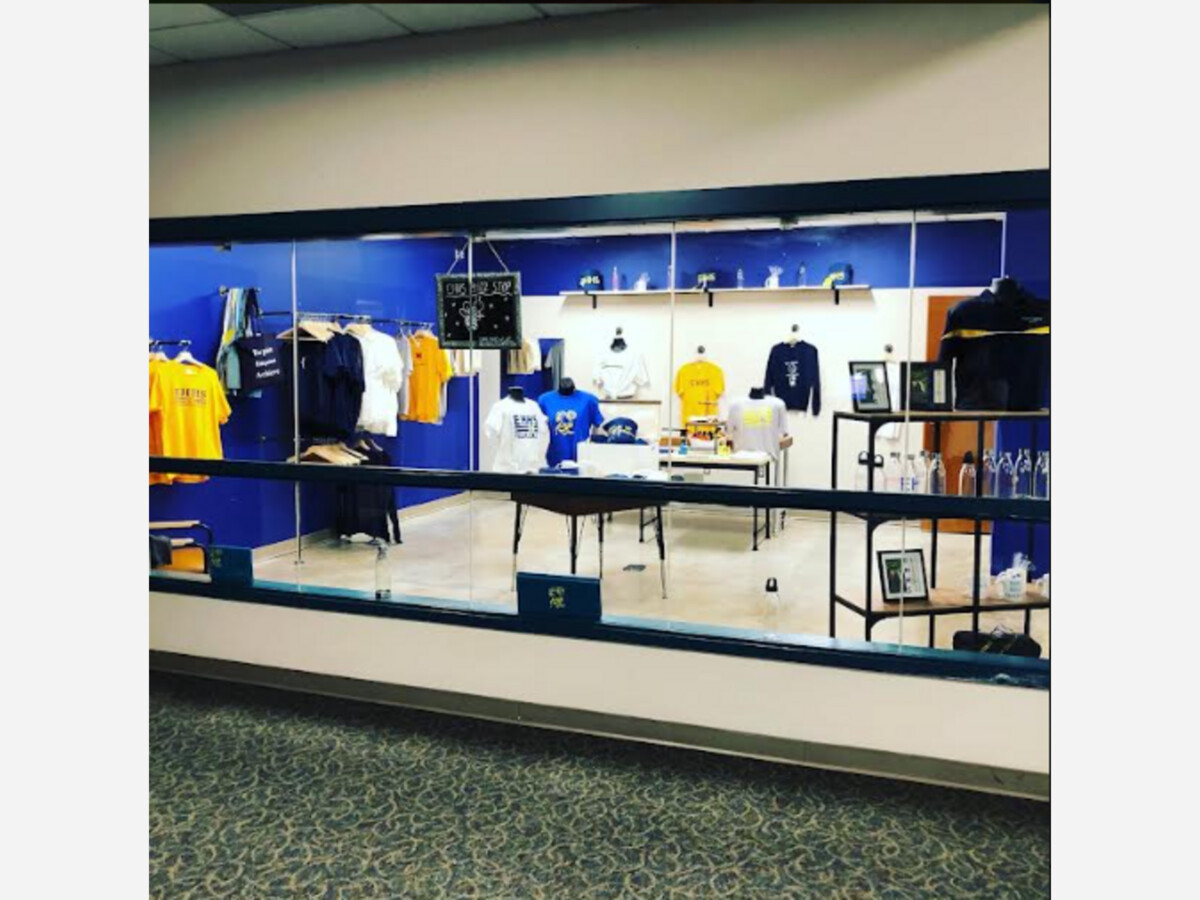 After several years of success and continued growth at EHHS, the new Buzz Stop, "The Buzz Stop Too," opened at JMMS earlier this year.
The EHHS Buzz Stop run by EHHS English teacher, Ms. Lutar, EHHS librarian, Ms. Robinson, and many EHHS students, makes different merchandise and is a good experience for students. Ms. Lutar says the Buzz Stop is "a student-run business started at EHHS and is employed by students who are in the maker space capstone course, which is a senior course that follows the mastery-based diploma expectations for graduation." Some products sold are school apparel, supplies (like notebooks), home goods (like planters), welcome mats, blankets, accessories (like keychains), and other items. The Buzz Stop is a non-profit where any money made from purchases goes back into the program for materials or the purchase of new machines and inventory for the store.
There is a process The Buzz Stop goes through to produce its merchandise. Students start with inventory and decide what designs they want or what designs are popular. They create these designs using Cricut design space, a program similar to Photoshop, which tells the cricket maker what to cut. Once they create the designs they select the correct material and use the Cricut maker machines to print words and images on the merchandise, which creates the items. Students also focus on making an inviting space in their retail shop located in the library media center at EHHS. They organize items for easier shopping experiences and practice customer service in a real retail setting. For the marketing aspect of the business, students make advertisements such as flyers, posters, and digital advertisements on EHHS TVs. Students also reach out to community stakeholders to promote the company, for example, on May 28 the Chamber of Commerce is coming for a business after hours.
The Buzz Stop Too! at JMMS recently opened on March 7, 2023. It is run by the student council and its advisers, Ms. Janine Fiorillo and Ms. Jamie Schiller, and is located at the old security guard stand. It is open 20 minutes before school on Mondays and Wednesdays and during lunch waves. Ms. Fiorillo said that JMMS Principal, Darcie Doyon, wanted this store to have JMMS "Swag" so school apparel was more available to students and fun spirit days could be organized. Larger items sold at The Buzz Stop Too! are sweatshirts, sweatpants, tee-shirts, and long-sleeve shirts with JMMS designs on them created by the students at The EHHS Buzz Stop. Ms. Doyon, worked with EHHS to be able to sell this JMMS "Swag." Smaller products they sell that they purchase from other businesses are eraser caps, hand sanitizers, stress balls, stickers, pencils, pens, fidgets, and other small items. To pick these items, Ms. Fiorillo said, "[we] looked at what students bought from a recent book fair and went off of that." To advertise this new store at JMMS the student council and their advisors put up banners, online flyers, and make announcements during lunch waves (when the store is open and students could go down to purchase something). Ms. Firoillo said they hope to get The Buzz Stop Too! to be mentioned in the morning announcements and have to "brainstorm other ways to advertise" so more students will purchase items. It has been a slow start in selling to students so far, so the need to focus on "driving the kids there more," said Ms. Fiorillo. Staff at JMMS have been extremely supportive of the store and have bought merchandise to wear to school. Since the store is just getting started, they haven't made a profit yet, but once they do they hope to replenish supplies, do nice things for the school, and work up to making donations to outside organizations. Ms. Fiorillo said she is "excited for the challenge, getting people to come down [to the store], and to empower kids on student council to step up and learn new skills."
Ms. Lutar said this transition was a good experience for EHHS students to have so they can "practice talking/communicating with an adult for an authentic purpose." Students get to experience the business and accounting side of a company, specifically retail and marketing skills. Students make sure prices are profitable, handle purchases and orders, invoice customers, and make deposits with the EHHS finance department. Students at EHHS should especially consider having The Buzz Stop as their capstone if they are taking marketing classes or considering a future in business so they can help run a business, prepare themselves, and practice for their future. If they have specific previous marketing classes, they may be able to take The Buzz Stop capstone as their pathway at EHHS, where they can then take over marketing the store their senior year. This would be an authentic learning experience and extremely beneficial for their future.
The EHHS Buzz stop has come a long way since getting started and would love to expand to more schools in the district. This school business is a great way for students to practice skills they will need outside of high school and gain new experiences.