EH Students Gather Support After the Turkiye and Syria Earthquake
Image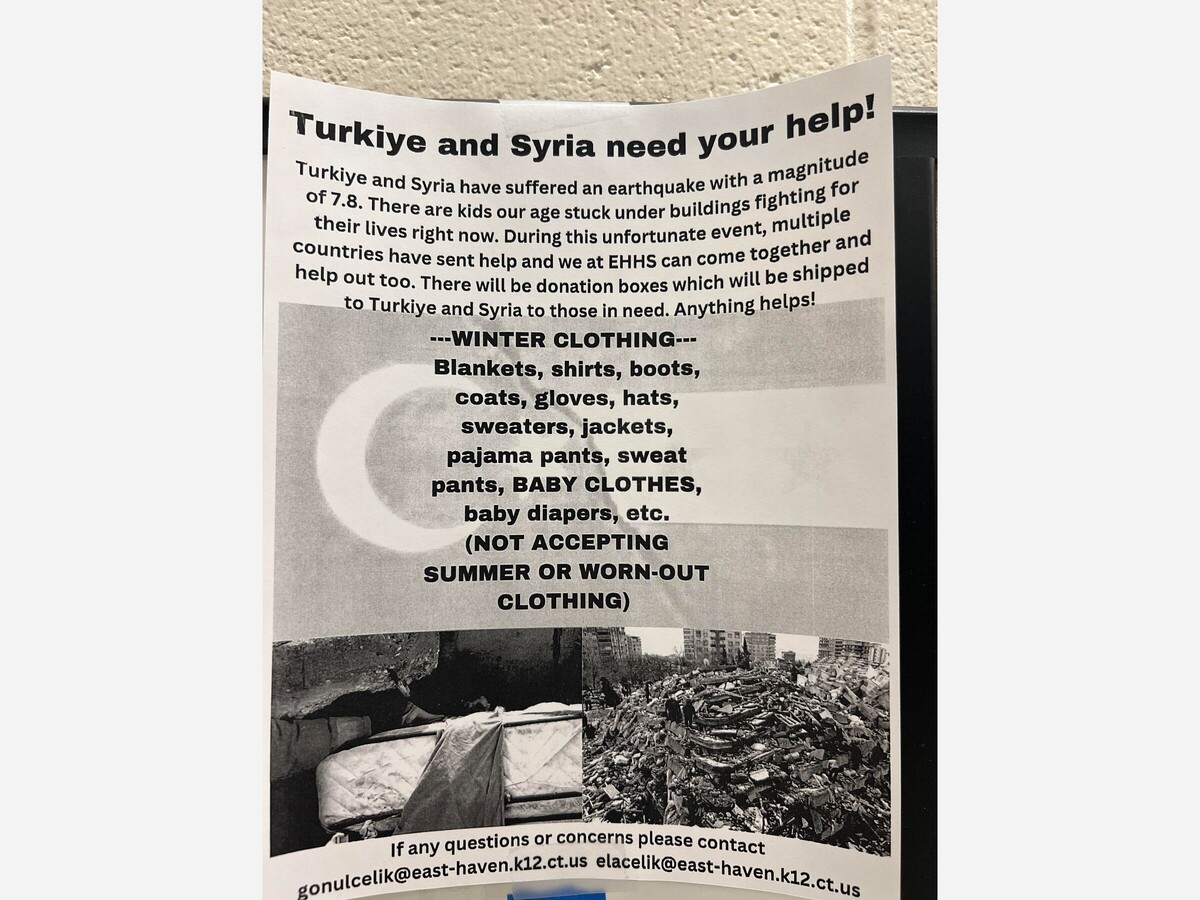 A series of severe earthquakes with magnitudes of 7.8 and 7.6 that hit Turkiye and Syria resulted in the deaths of more than 50,000 people.
On February 6, 2023, an earthquake with a magnitude of 7.8 and 7.6 struck Turkiye and Syria causing many deaths, and many homeless. No one was prepared or expecting an earthquake after many years since the last severe earthquake in 1939. It left kids orphaned, it left many homeless, and most of all caused pain to the Turkish community. This tragedy brought a lot of attention to everyone across the world. In addition to why Turkish students at EHHS have started a donation bin at school for the people in need.
Sophomore Gonul Celik along with her sister Freshman, Ela Celik, both came together and wanted to raise awareness of the earthquake. They came up with a donation bin in the office and a flier that was hung all over the school. Gonul's goal of putting out flyers around school was to "bring attention to the tragedy". The earthquake brought Gonul closer to her community even though they were not affected physically. "We were hurt knowing that our people were hurt," said Gonul. `
Many other students and teachers who are not a part of the Turkish community were asked how to bring attention to this cause in classes. " Social studies classes can talk about it in the beginning of classes to aware students" said Mr.Gardner. Ms.Chilone followed up with that and said that " disciplinary activities" can be used in different ways for different classes to bring attention to the tragedy. Going around school and asking students if they had any clue of the earthquake. Students have no idea what is happening outside of their culture simply because of the fact no one cares to talk about it and raise awareness.
Principal Mr. Vincent DeNuzzo believes this topic should be a part of the vision of the graduate and we should be able to look at the issues that are happening through the lens of the VOG and think about how we can be an informed thinker.
Donating and giving your support to Turkiye will benefit so many people and save lives of those who are suffering. Donate anything you can think of that will be useful in their time of need. To find donation spots you can go online and search for local donation centers.