Prom is Approaching: Date or No Date?
Image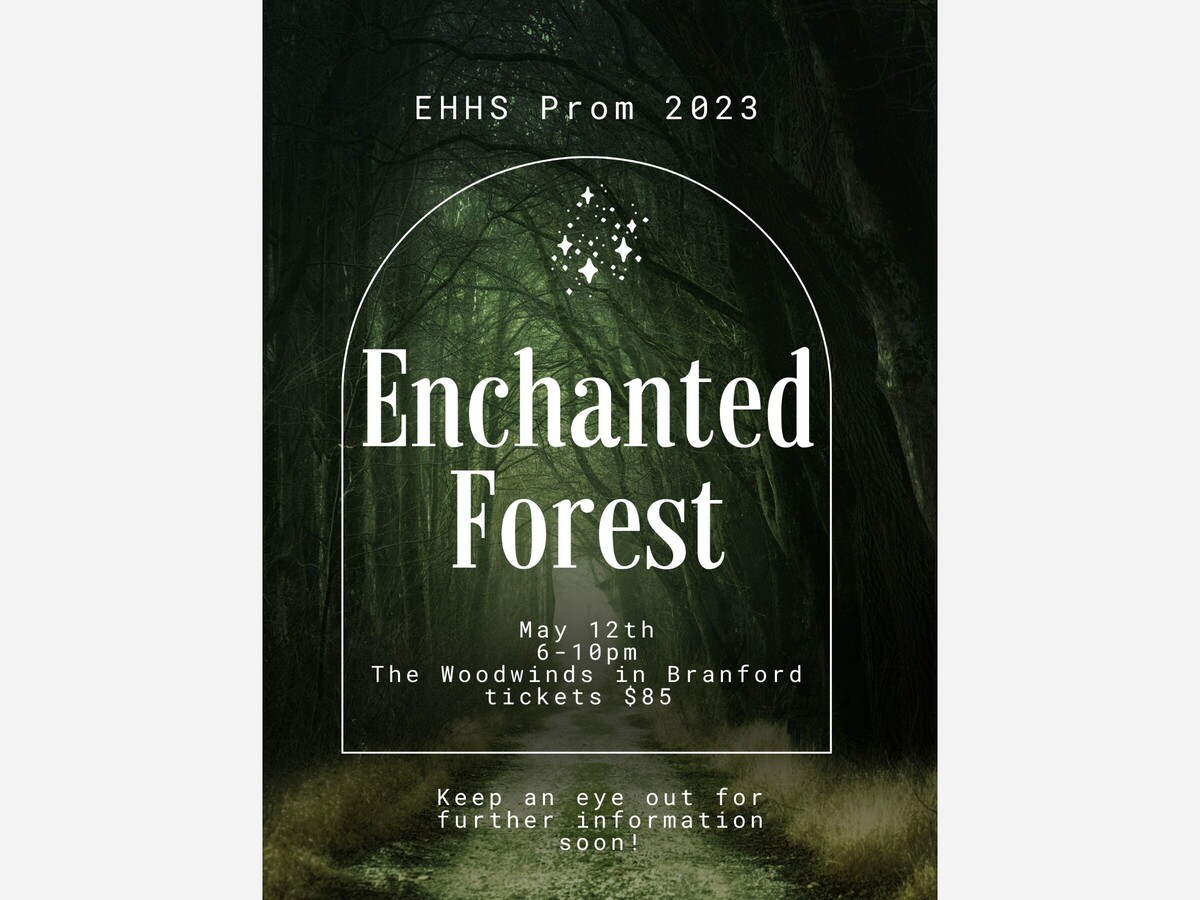 Most EHHS students do not think that it is necessary for teachers to have a date to prom as part of the experience. Students are already buying outfits, tickets, and planning ideas for their way of arrival, and most importantly, dates.
The 2022-2023 Prom will be held on May 12th at Woodwinds in Branford from 6-10pm, followed by an after prom at EHHS from 10pm to 2am. Prom is set up by the class officers and by the senior committee along with Mrs. Li Martin and Mrs. Jessica Spinelli, the class advisors. They come together and host meetings about prom themes, venue, budget, decorations, and more.
This year, the theme Enchanted Forest was inspired by the venue, because of its location, Woodwinds in Branford. According to Class Officer Glerys Ramirez, the greenery of the location inspired the theme, and wanted the event to feel magical, so Enchanted Forest came to be.
"We needed a venue by May of last year, which involved paperwork and budgeting. Getting a deposit involving the food, tickets, and people that would attend the event was difficult to organize," says Glerys.
Most students say that it is not important to have a date to prom. "Even if you have a date, most people go and hang with their friends for a while. Sure, it can enhance your experience but prom is not really about having a date, but more of a night to celebrate with your friends," says psychology teacher Mr. Mark Tolla. "You don't need one to go," says Noah Franci, a senior, who attended prom last year. Classmates from around the school agree that having a date to prom can influence the amount of fun you have, but it is not important. Students who do not have a date to prom should still attend with friends, because the night is about having fun. "A good way to finish my high school experience," says Kevin Lawlor, a senior.
Kayla Astorino mentions the importance of filling out surveys that they send out to the school so that their suggestions and opinions can be considered when choosing a venue. "We can only work with what we have," says Kayla, "When surveys are sent out, it is because we need your help in figuring this out, because we are not planning this event for just the five of us, but for all of us to have fun." They suggested this when it came down to the dress, shoes, accessories, and ride to get to the event.
With this, students may wonder how to prepare outfits, for example. According to class advisor Ms. Spinelli, students and attendees do not have to follow the theme of the event. A theme is set in place for decoration and advertisement to liven up the event, and while a theme may help you decide on color or dress, it is not a requirement. Kayla also advises to keep the prom budget small. Spending a lot for this event is not ideal, because it is mainly to have fun.
Senior Abigail Brooks has already bought her dress, and her choice was influenced by the theme. Her dress is the color red with floral designs. McKenna Doebrick, a junior, also went with a red dress with golden flowers on it. With this theme, you can expect a lot of floral dresses with vibrant colors at this year's prom.