EHHS Offers a Certified Nursing Assistant Program
Image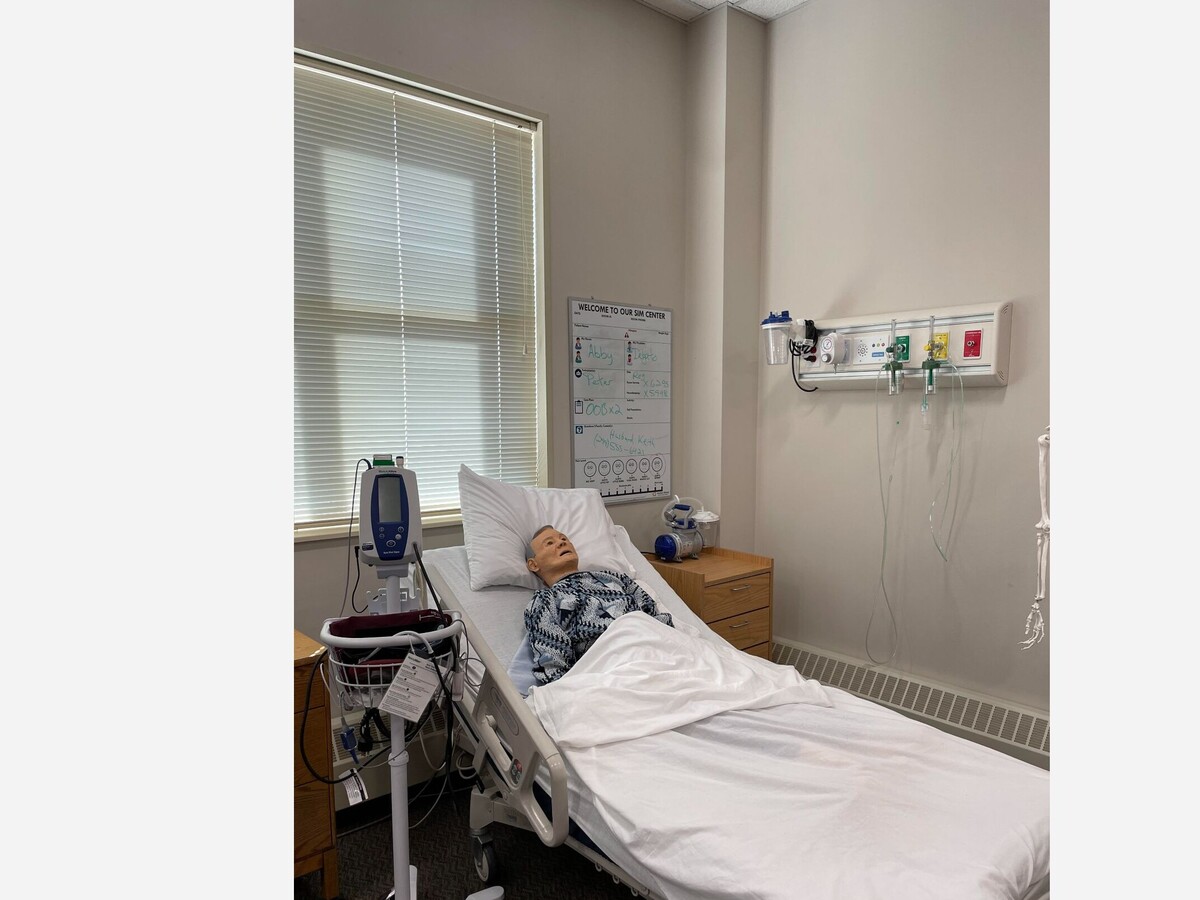 EHHS offers a Certified Nurse Assistant (CNA) class taught by Mrs. Martin, giving the opportunity for students to be certified CNAs when finishing high school.
The CNA course is a program that teaches students about patient care such as walking them, feeding them, bathing them, brushing their teeth, and much more to be a nurse assistant. Throughout the first half of the year they do lots of bookwork, and medical terminology, and learn the skills they need in the classroom lab to take care of their patients. In the second half of the year, they learn twenty-two skills to assist patients with daily living and basic needs. Students are then taken into clinicals (at various local hospitals and medical facilities) in February where they get their hands-on experience, actually taking care of patients. For ten weeks students are taken to clinicals at nursing once a week or the hospital like they used to do before COVID. Where students spend the day getting residents up and ready for breakfast and moving throughout the day.
By the end of the year, in May, students take their certification exam to become CNAs. Li Martin CNA teacher states, "Most students pass and become certified nursing assistants". The certification exam is taken early in May giving a chance for students who have to retake the exam but also so students can look for jobs earlier for the summer. Mrs. Martin says, "Most of them get jobs before they even graduate" which is a great opportunity when leaving EHHS.
CNA is a class given everyday first block in their senior year, the course counts as a two-credit class, previously counted as a Capstone class for the Mastery-Based Diploma assessment. Students work on a presentation that shows their growth, what they learned, clinicals or if it changed their career goal, then presented in front of a small audience. The application for CNA goes out in September and is due back in November, Mrs. Martin then sets up interviews. If you're interested in Nursing you may be interested in CNA, it's a good experience if you are unsure about what you want to be, or if you want a job when you graduate. "CNA is beneficial for college if you're interested in the healthcare field, and gives you interests after high school to help find a career," states Matt Fuchs, college advisor from UCONN.
Senior, Silvanna Ramon says a regular day in CNA is learning and practicing an assortment of skills to prepare us for clinicals. She says she learned to feed a patient, give them bed baths, and assist them with their everyday living styles, as well as bookwork that consisted of how to treat a patient and what basic healthcare looks like. "Having CNA can be a bit stressful at some times with a lot of memorization for weekly tests and skill practices for the final clinical test but at other times it's really interesting" said Silvanna. Ever since Silvanna was young she wanted to be in healthcare, having goals to become a pediatric nurse/NICU nurse. She says that CNA has given her a closer look into the healthcare world. Her favorite part of CNA is practicing skills because it gives her the opportunity to be hands-on
Senior, Arielle Dupree says CNA consists of communicating what we did during the week/ weekend after going over skills or taking a test. "I love having her class every day," said Arielle. Arielle wanted to have the experience of what it's like working with people and wants to become a nurse in the future. She feels that CNA helped her experience how to interact with people and how to respond in certain situations. Her favorite part about CNA is learning new skills.
Senior, Natalie Gonzalez says that a regular day in CNA is learning lots of hands-on skills after studying different topics. "Having the class every day is a little repetitive but it's nice being around the same people with similar interests and goals," said Natalie. Natalie explains that she learned a lot of fundamental skills for healthcare, and wants to become a pediatric oncologist or a neurologist. She says that CNA showed her that she definitely does not want to do nursing and that the doctor career is a better option for her. Natalie's favorite part of CNA is getting the idea about healthcare with the environment and situations that you will possibly end up in at some point in your career.
Mrs. Martin's journey to teaching at EHHS began with teaching a dental radiology lab at the University of New Haven getting her master's degree in education, getting into nursing school, becoming a nurse, and working as a nurse in 3 different areas in order to gain experience before teaching at EHHS. Her qualifications as a CNA teacher include two healthcare/health science degrees (dental hygiene & RN), being a nurse for 4 years prior to coming to EHHS, a master's degree in education, and 18 years of dental hygiene experience. Mrs. Martin has been teaching CNA at EHHS for six years. Her future goals are to get more participation so that the class is full, 100% pass rate of students on the certification exam and get clinical rotations back at Yale.