Menu Designs Made In Chef Profetto's Mastery Based Diploma Assessment Class
Image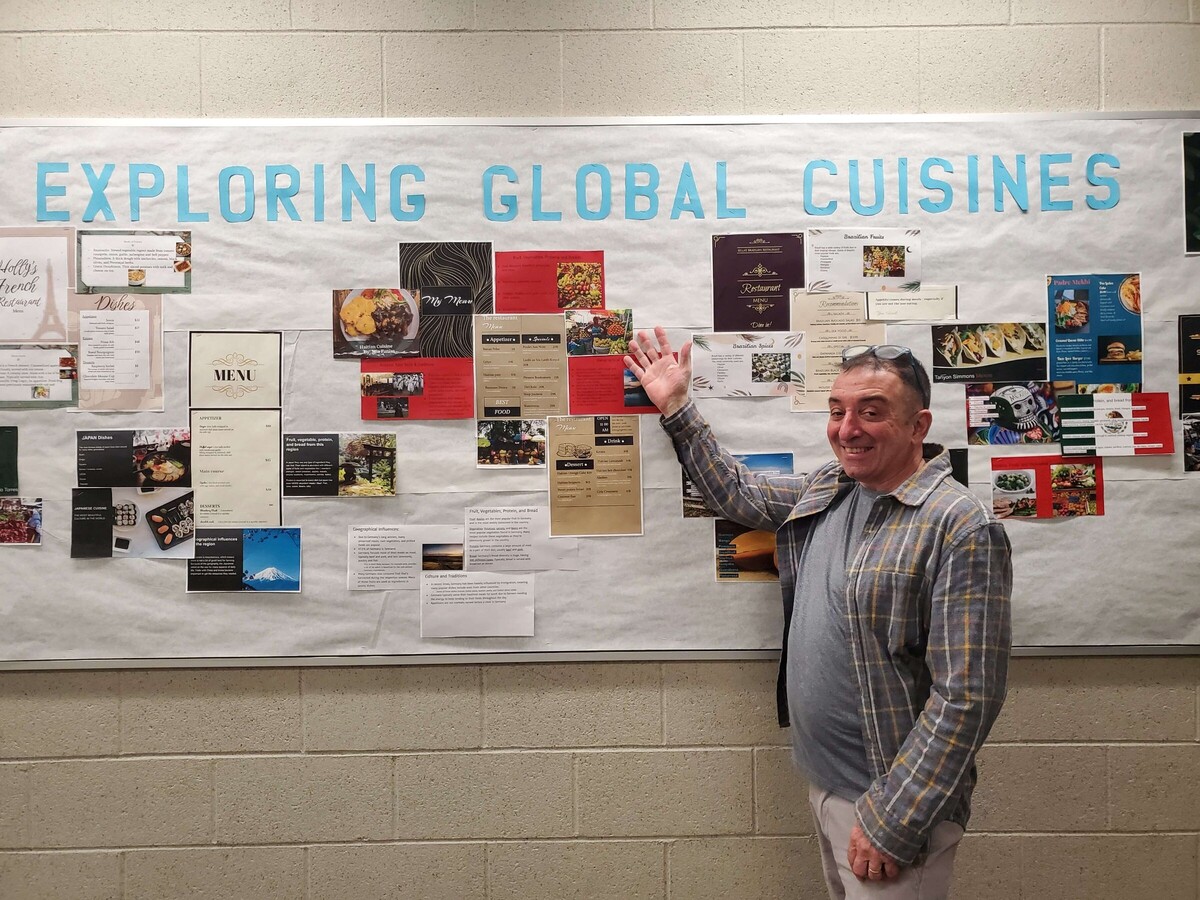 Students in Mr. John Profetto's Mastery Based Diploma Assessment class, "Cafe Maestro: A Working Bistro," create menus to help students learn more about different countries. The class goes over important EHHS Vision of the Graduate criteria like powerful and effective communication. They do this by mimicking how to run a restaurant like being a waiter and learning waiter mannerisms. Mr Profetto, one of the culinary teachers at EHHS puts it,
"it gives you skills that you need for the real world, being a waiter is difficult and you have to be able to handle difficult situations which can be used in other parts of your life as well."
For this project in particular, students pick a country to study. Important fields they research are its history, geography, culture, signature dishes, ingredients, how they are grown or made, different methods they use to cook, etc. Senior, Mia Paniss, for example chose Haiti for this project. "Researching the country was fun, and I had fun cooking the food too." Said Mia. Mia had to research many aspects of Haitian culture and then choose a dish to recreate, she chose the Griot and Banan Peze. The dish consists of marinated pork shoulder and "pressed plantains." She had a good time connecting Haiti with her own culture in Puerto Rico. "A lot of the dishes that Haiti has Puerto Rico have too, they just use different ingredients, like Epi for example," Mia said. Once she had finished her research, she was assigned to create a google slide presentation that gives well rounded information about Haiti, and then created the menu. The menu needed to have appetizers, specials, deserts, and drinks. One of the biggest hurdles Mia had to push past was obtaining the ingredients, as one of them was 30 minutes away in Bridgeport, CT. Once she made her dish, she valued the project and learned about different spices and ingredients for cooking.
Another student who took this class named Lenox Villota used these skills he learned into the real world. He currently works as a waiter in Chilis in East Haven. Using this class, he was able to get the job, and be a star member on his team. He is able to effectively use his communication skills to be sociable and friendly to customers and responsible for getting people's orders and bringing food to tables quickly.