Image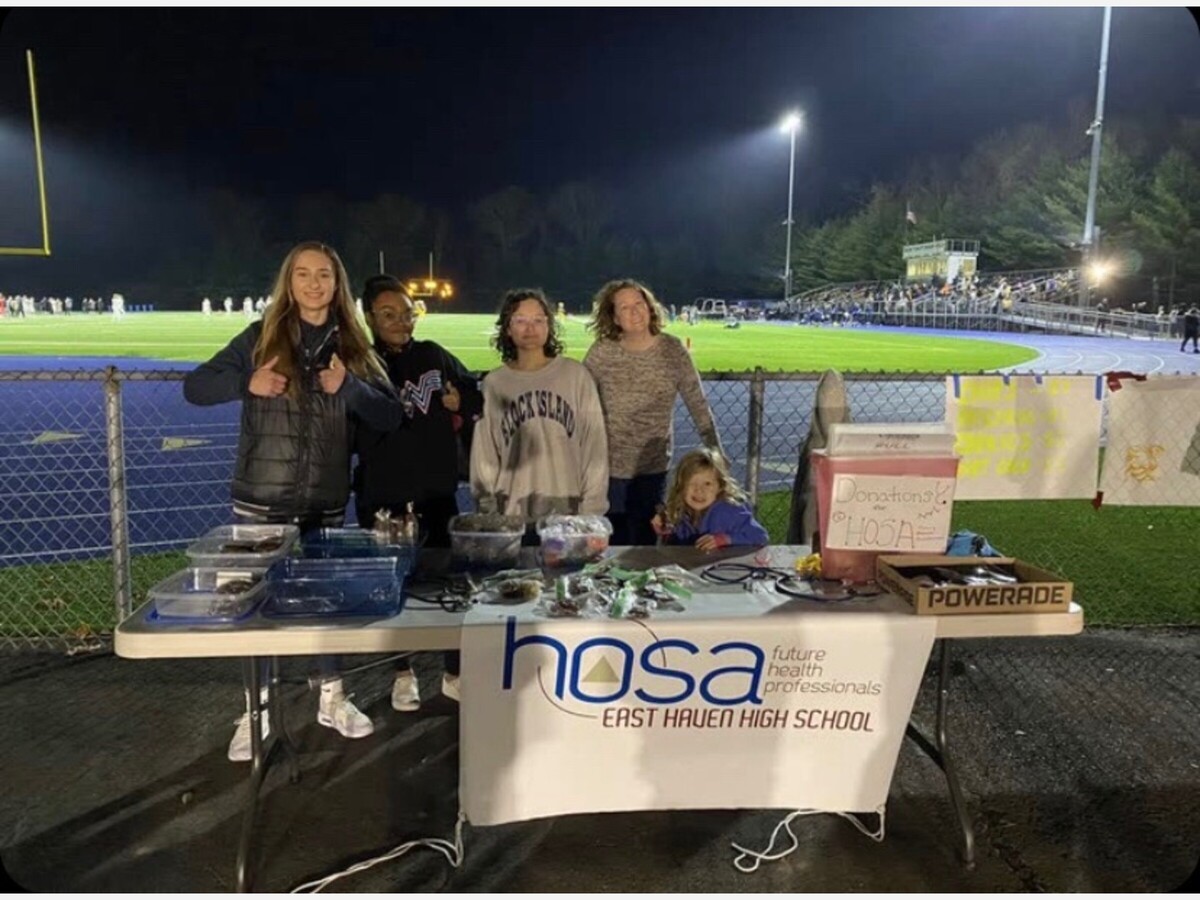 As an integral part of the EHHS community, the Health Occupations Students of America (HOSA) club has won many awards at competitions, helped prepare countless students for a career in the medical field, and consistently sponsored various in-school activities, including the Winter Pep Rally, bake sales, and an upcoming bingo night.
There are 3 major levels of HOSA: local, state, and international. At EHHS, HOSA was started around 10 years before Mrs. Li Martin arrived. Before she became a teacher at EHHS, HOSA was well-organized, very good at competitions, and used to be one of the biggest groups at EHHS. Junior, Chloe Hartmann and EHHS Health Science teacher and HOSA advisor Mrs. Martin both agree that HOSA is more than healthcare. It's a family that is dedicated to each other, their own future, and the school community.
There are several ways for students to join HOSA. The first way is if you're in one of Mrs. Martin's classes. At the beginning of the year, students in each of her classes vote if they want to be in HOSA. If 80% or more students say they want to be in HOSA, then the entire class is in it. If you're not taking one of Mrs. Martin's classes, then you can join the after-school meetings at any time. There are $20 dues to be in HOSA.
Being in HOSA can be very fun. According to Chloe Hartmann, being in HOSA has been an enjoyable experience, as she's able to talk to friends while planning and working on various projects: "It's fun, it's exciting, you get to talk to your friends but still get right to the point when you need to." To be in HOSA, you must have some form of commitment, whether it be towards HOSA or to your future. There are many benefits to being in HOSA. Mrs. Martin says, "HOSA looks amazing on your resume, especially if you're going into a health career program."
Towards the end of the school year, HOSA is planning on attending a HOSA conference. A HOSA conference is an event where HOSA members are able to attend workshops, compete in healthcare-related competitions and meet members of the healthcare community. Mrs. Martin says, "The competitions also look good on your resume" regardless of the outcome. She continues, "it shows grit, it shows that you're actually interested in healthcare, and you're serious about your future profession." The conferences provide networking opportunities with people who are currently in the medical field. In the past, HOSA had a very successful history at competitions. Some of these competitions include healthcare photography and medical terminology. Mrs. Martin says, "We would usually send around 15 students every year, and I would say more than 50% would get gold or silver." During Mrs. Martin's second year at EHHS, HOSA got to walk on stage at the national HOSA conference because they raised $1,200 for pediatric cancer research. The members' commitment leads to accomplishments like these.
HOSA participated in several activities this year and is planning on sponsoring more. A few months ago, HOSA sponsored the winter pep rally, which included healthcare-related activities. During the football season, HOSA had 2 bake sales during football games where they raised 200 to 300 dollars. Currently, HOSA is hosting a bingo night at the East Haven Senior Center that will take place in March. Chloe says, "I think maybe from like 2 bake sales so far, we've gotten maybe like 2 or 300, and we're hoping that we can get more because of bingo night. Simply from admissions, we'll get 500 if we get 50 people with 10 dollar admission". HOSA's main goal in these fundraisers is to raise money for future activities and attending competitions. Another thing that HOSA is planning is FLEX mental health sessions, which may include yoga, meditation, and more. These sessions are planned for May, which is mental health month.
HOSA is more than a healthcare-based group. It is a small community that is very welcoming and accepting of everyone. Chloe says, "Everyone has gotten really close, and it doesn't matter who you're in a group with, because you're still going to get along and talk to each other and be kind. We have fun with it." Though this is her first year in HOSA, she is already noticing the benefits that HOSA can have on her future. Chloe says, "I think people should join HOSA because it'll help you become more career-oriented and give you better insight on what careers you have available." If you are interested in joining, email Mrs. Martin at lmartin@east-haven.k12.ct.us for more information.