Filling the Stands for EH Winter Sports Teams
Image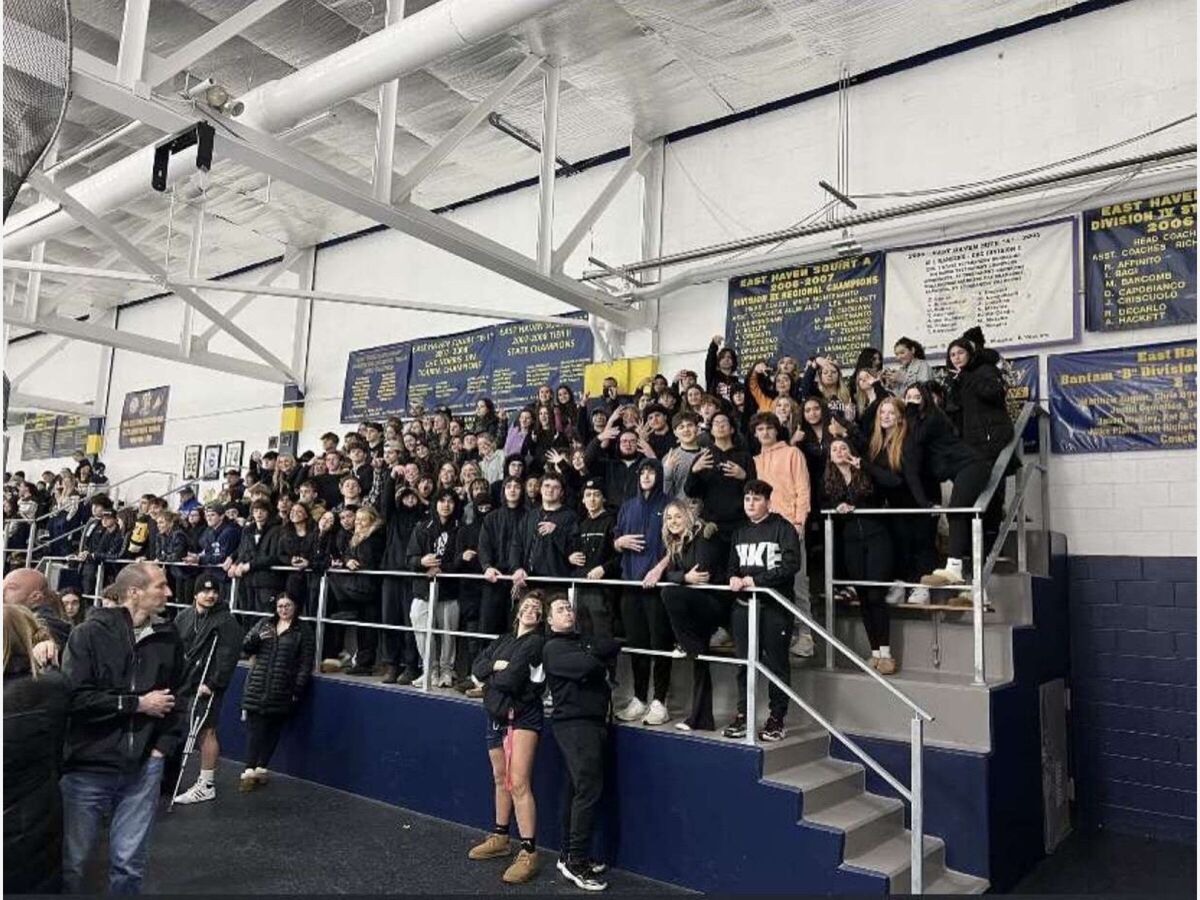 Many winter sports at EHHS get extra hyped up when there is a crowd in the stands, but that isn't the only thing that gets them motivated. Senior captain of the boy's basketball team, Dom Salato, said "the team gets more excited to play when there is a crowd cheering. The team starts playing better when they are hyped up." The boy's basketball team started their season off well with 4 wins and 3 losses. Dom Salato, along with other players likes to get motivated before the game by listening to music. The captains keep the players motivated by telling them to work hard so they can win. The team keeps its hopes up and is working towards winning many more games through conditioning and practices.
Freshman girls basketball player Chelsea Mingione said although the team still works very hard to win when a crowd doesn't show up, "the crowd makes players want to work even harder." Most players and coaches agree that it is important for students and EH community members to show up to watch EHHS sports to help our teams succeed and be supported.
Some other teams at EHHS believe it is beneficial for there to be a big crowd, but a big crowd doesn't mean they will win. Boys hockey junior, Mike Savo, said, "A bigger crowd encourages us to play harder and better, but if there wasn't a crowd we would still play hard and play to win. The crowd just adds to the hype." The hockey team started off their season strong with 3 wins and 2 losses. Mike believes that as long as the team works hard and focuses on its goals, it will do well. Mike is most motivated to perform at his best with the hope of winning, helping his team succeed, and making his school and family proud.
Sophomore wrestler, Alex Dombrowski, said he plays the same with or without a crowd, but it can change for different people. He does agree that a crowd does make a match more enjoyable though. Alex is motivated to win for himself and his family and because it feels like an accomplishment not everyone reaches. He said the captains of the wrestling team motivate them to do well and hype them up for games by "pushing [them] to do [their] best," talking to them before games, and listening to music. He feels the team is improving over the season and some players will make states.
Junior boys indoor track captain, Richard Ackom-Brew, thinks crowds do impact an athlete's performance. He said, "a fan section cheering for their own team at the race inspires you to do your best. People cheering for other teams and not you doesn't motivate you." He and the other captains motivate the team by increasing excitement and playing music on the bus before a meet to get people excited. He also talks to players and tells them if it isn't their best race, there are always other meets so don't get too upset with yourself. Richard is individually motivated by his love for running and the excitement he gets from being in the races, people cheering, and his coaches. He believes a captain sets the team standard, so you have to run for yourself and push yourself to succeed.
It is important for captains to motivate their team because, with or without a crowd, the team's goal is to win. EHHS principal, Mr. DeNuzzo, said, "Captains are leaders, and regardless of how many people show up they have to lead by example. They have to encourage their team and keep their hopes up and the rest of the players will follow." Captains have to demonstrate motivating characteristics that are expected of them and other players. Science teacher and Branford girls basketball junior varsity coach, Ms. Riccio similarly believes, "Captains set the tone for the team, if they are excited and hyped, the team will follow. Captains are extensions of what the coaches want and get that excitement and energy out to the team." Although a crowd for our EHHS sports is important and helps our teams to succeed, captains and players have to hype up and motivate their teams as well.