EHHS's New Grading Policy: An In-Depth Look
Image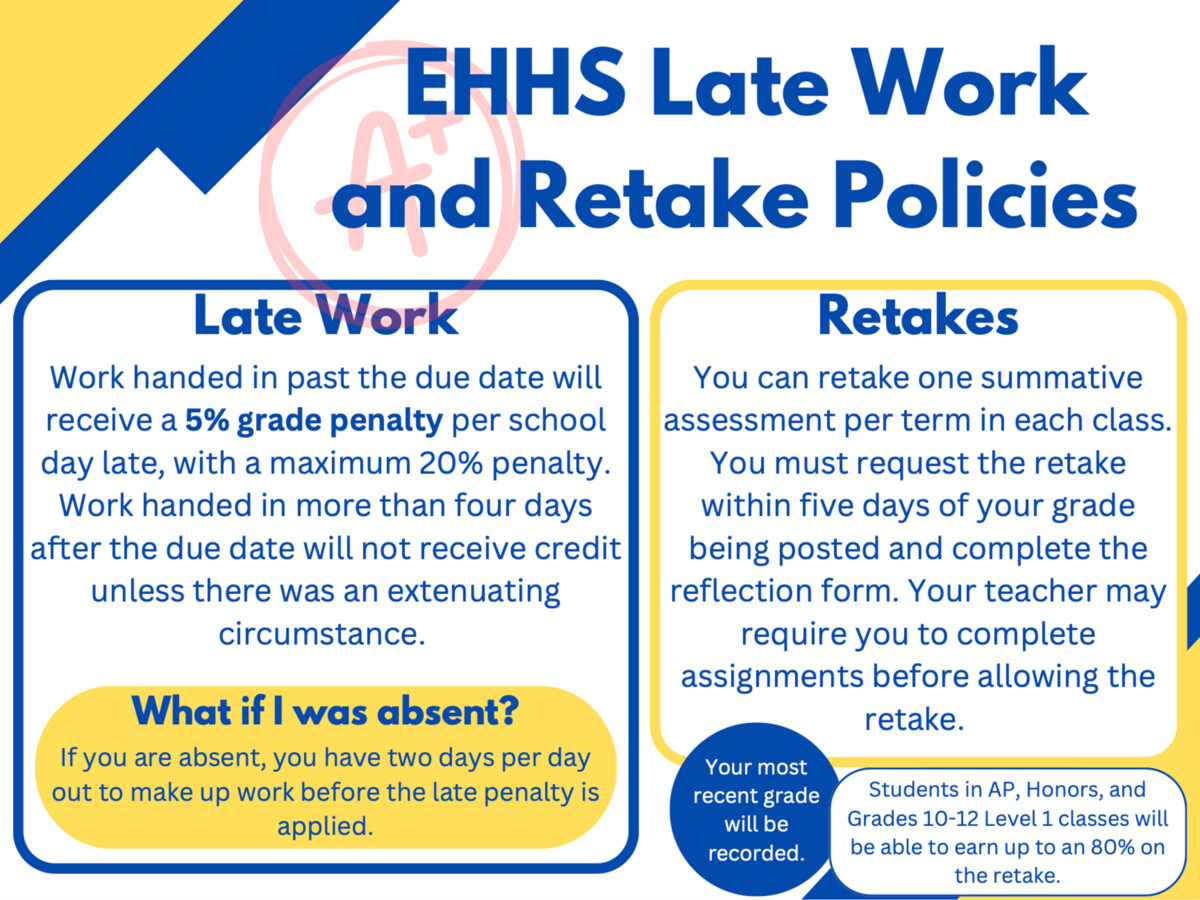 EHHS recently implemented a new, updated grading policy guided by Principal Mr. Vincent DeNuzzo. This policy represents a shift toward standardized assessment policies and greater transparency.
New Grade Change Policy Details
Mr. DeNuzzo explained, "The policy is designed to bring consistency and transparency to student assessments." This new policy introduces changes to grading criteria and methods, offering a more uniform approach to academic assessment.
According to the new policy, late work submitted after the due date incurs a 5% grade penalty per school day, up to a maximum of 20%. Work submitted more than four days late may not receive credit unless under extenuating circumstances. This is a shift from previous policies, in which teachers were able to set their own late work policy.
If students have two days per day of absence to make up work before the late penalty applies. A similar version of this policy was previously communicated with teachers and is now transparent for all students and their parents.
In the new policy, each student can request a retake for one summative assessment per term in each class. The request should be made within five days of the grade being posted (on PowerSchool), along with the completion of a reflection form. Students may be required to finish assignments before retaking the assessment, and their most recent grade will be recorded. In specific classes, students can earn up to an 80% on retakes.
Rationale Behind the Change
Mr. DeNuzzo emphasizes, "We recognized the need for a change to align with contemporary educational practices." The previous grading system was viewed as outdated and insufficient in capturing students' knowledge and skills comprehensively.
The new policy aligns with EHHS's educational philosophy, focusing on standardized assessment and personalized learning experiences.
Impact on Student Performance
The question that naturally arises is how this policy change might impact student performance. Mr. DeNuzzo is optimistic, asserting, "We are confident that it will have a positive impact on student performance in the long run."
As the academic year unfolds, students and educators at EHHS are adapting to the new grading policy, which aims to standardize assessment and enhance academic clarity. The school is committed to providing quality education and ensuring that students' academic journeys genuinely reflect their abilities and potential.
This grading policy may not appear groundbreaking, but it underscores EHHS's commitment to fostering a standardized approach to assessment, allowing students to excel while maintaining transparency and fairness in grading.