EHHS Fall Sports Ups and Downs of the Season
Image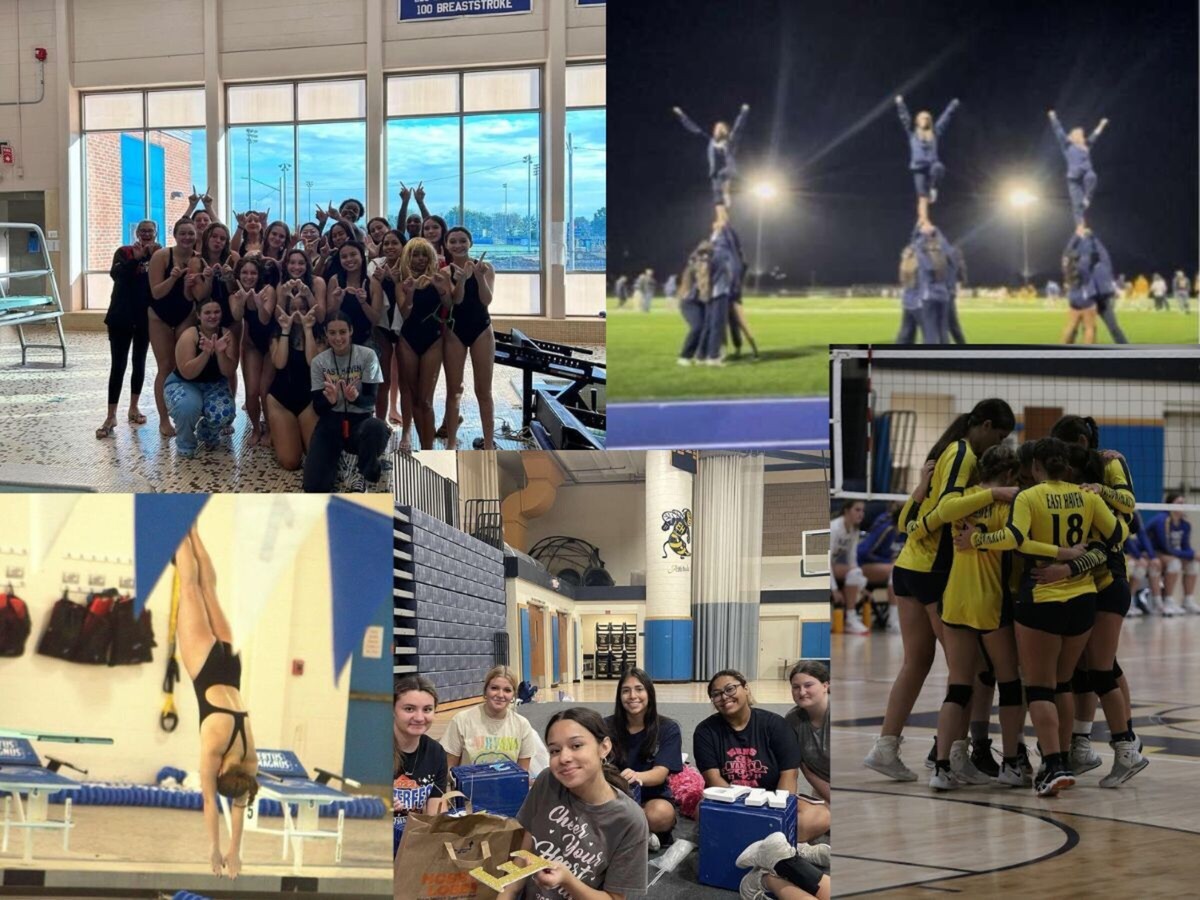 As the leaves start to change and the weather changes, East Haven fall varsity sports continue to rise above the cold temperatures with some outstanding wins and great sportsmanship.
Football
This Ones a Kicker! 
Starting off with America's favorite sport, East Haven's football team has a record of 2-4. Sophomore Trew Kitson says he expects the team to end off the season with a good record. He went on to say the team needs to work on their mentality. He said junior Rocco D'Amato has been standing out this season with his great playing. Great job Rocco!
Boys Soccer
Reaching Their Goals 
Boys soccer has a record of 1-13. Coach Jake Callahan predicts that they will have at least one more win. "We need to work on trusting each other and communicating on the field." Mr. Callahan states that Nico Lopez has been standing out this season. "He gives it his all. He puts his body on the line on defense, and he earned his way into a varsity spot. He really gives it his all during practice." Mr Callahan went on to say that his captains, Marvin Cardenas, Dominic Rivera, George Orellana, and Brad Molina, have shown a lot of improvement this season. "Having a captain title has really matured them. They all have really stepped up to that role." Mr. Callahan says that he's happy to see them bonding on and off the field despite their record.
Girls Soccer
Get a Kick Out of This! 
Girls Soccer has a record of 1-10. Captain Natalie Brown predicts they will win two or three more games. She is sure that the team will beat Career. "We just need to have more energy when the game starts instead of picking it up in the second half." She says. Currently standing out on her team is "Valerie Sortito. She's a very strong defender and she's always willing to give it her all." She went on to say that freshman Abby Hopkins has improved the most this season.
Swim 
Swimming Into the Season 
Senior Alexis Lamprea shares that her season is going swimmingly! She stated that her record is currently 2-3. She predicts that her team will win the rest of the meets that are coming their way. She continued to say, "Our pool is very divided, so the two sides were more bonded, other than that we're doing really well!" She continued to say, "Two people who have stood out are Ale Cruz and Hannah Goodwin. They worked really hard to drop time and I'm super proud of them." She then said her favorite memory was their meet against Mercy. The meet was really close and Mercy is Sacred Hearts' rival. However, she said her team has had a lot of great moments and this whole season has been one great memory.
Volleyball 
Setting Themselves Up
Volleyball has a current record of 2-12. Senior Ava Avena says, "We should win against Hillhouse and Wilbur Cross. We're going to put up a fight against Woodland. We just need to work on communication and confidence to win these last few games." Ava went on to say junior Mia Abely has been standing out this year. "She played really well against Hamden, blocking one of their best players multiple times." Ava continued on to say Lexi Heaphy has also improved since the beginning of the season; "Her swinging has gotten a lot better." Her favorite memory this season was seeing the buffalo chicken dip she made get eaten in ten minutes at the pasta dinner.
Cross Country
Racing to States
Cross Country has been running through a great season so far. Melania Korvenovsky states that she's looking forward to SCC's and predicts that everyone will do really well since this is typically when everyone gets their fastest times and when they're in the best shape. Although this season has been great, Melania states, "We need to work on being more competitive. A lot of our players are happy where they are, but we can push ourselves to be better." She continued on to say senior Jacob Ushak has been standing out this season with his good spirit and positive attitude. "He's always ready to run and keep the team going." Her favorite memory so far was sitting down with the rest of the girls on her team and chatting after their first meet. "Last year, I was the only one on the team, so I'm happy to finally have a team to bond with." 
Cheerleading 
Cheering Each Other On
"To be a successful team, everyone needs to be bonded and be able to trust each other and that's exactly what we have," says Mia Pierce. Cheerleading is making their way to competitions with a great routine and a positive attitude. Mia Pierce is excited to spend the rest of her season surrounded by such supportive girls. She continues, "Cheer is about working and not giving up. The progress everyone has made since first stepping on the mat has been incredible." Mia explains, "Sophia Montalvo [stands out this season]. She's had to learn elite stunts since coming up from middle school." She continued to say High school cheer was a whole new environment to adapt to for her. She's always willing to try new things and she never says no to anything. Sophia is also on the volleyball team and has a done a great job balancing the two sports. Mia continued on to say junior Kolbey Nastri has improved the most on her team. "She started basing [being at the bottom of a stunt] this year, which is very different from flying. She's always willing to be put underneath a stunt. She makes sure everyone on the team is comfortable and she works the best she can. She has a positive attitude and always puts others before herself." Mia's favorite memory from this season was the bus ride home from the Bassick game; "We blasted music the whole ride home and our whole team was singing together even though we were all so tired. It was such a great experience and we were all so bonded. Now we sing and dance every bus ride home."
Pom Pom
Spinning to States 
Senior Madison Parise-Orsini shared that her season so far has been filled with team bonding and hard work. "I think we're going to do better at competitions this year than previous years. We just need to push our limits and stay determined." She said that senior Bella Katynski has been standing out this season. "It's her first year doing pom and she's already accustomed to everything. Going from normal dance to Pom Pom is a big change and she adapted to it really well." She also said that junior Gianna Caffalette has improved the most. "She used to get mad at herself and doubt what she was capable of doing. She's gained so much more confidence this year." Maddie said her favorite memory this season was going to a camp in Massachusetts over the summer. Her team learned a lot of new dances and had a great time bonding with each other.
Good luck on the rest of the season everyone!