Unleashing Creativity: The Impact of EHHS' Creative Club
Image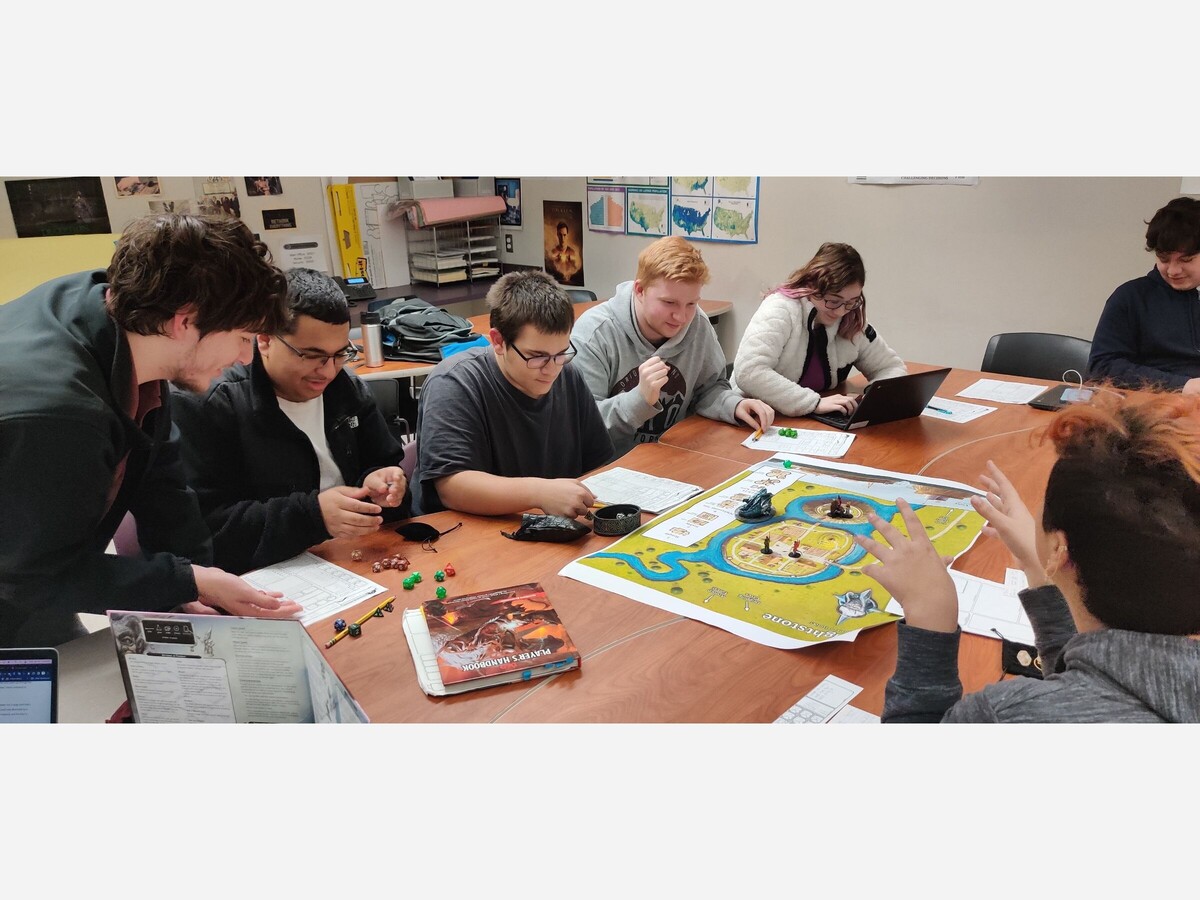 EHHS students keep talking about the Creative Club. Since its inception in 2009 by English teacher Mr. Douglas Gardner, this club has gone through many changes. Initially focused on creative writing and producing an annual print magazine filled with stories and art, the club has since embraced a broader spectrum of creativity. Each year, the club kicks off with a meeting to welcome new members and discuss their creative aspirations.
Most recently, the club's activities primarily revolve around either embarking on thrilling Dungeons and Dragons (D&D, an intense tabletop role-play game) campaigns or engaging in various writing exercises, depending on members' preferences. While the club has had presidents in the past, recent years have seen a shift away from defined leadership roles. This transition reflects the club's changing dynamics as it embraces a more fluid structure centered around fostering creativity. Mr. Gardner enjoys running the Creative Club, despite the time-intensive nature of managing D&D campaigns. His dedication to helping students' creativity shines through in every meeting and adventure. Looking ahead, Mr. Gardner hopes to revive a digital version of the club's creative magazine, adapting it to the interests and talents of current members. One of the club's remarkable qualities is its inclusivity. Any student with a spark of creativity is welcome to join, fostering a diverse and vibrant community of artists, writers, and adventurers. Mr. Gardner says, "I would really like for new members to join and see if they are interested in what we do. We often have a large number of seniors in the club and it would be nice to have a wider range of grades represented."
One former member, Sophomore Elijah Dunaj, reflects on the transformative impact of the Creative Club. He states, "I loved the creative club for these reasons, it brought me out of my shell, forcing me to talk to people I didn't know. I would pass along the advice to younger and older students alike, to at least check it out." He emphasizes how the club provided a unique space to connect with like-minded individuals. The relaxed environment was largely centered around D&D that allowed students to make new friendships and learn new skills for self expression. They share that it is easy to let yourself go and have fun because of the comforting and welcoming environment. This environment also allows you to use your imagination and embrace your creativity. Elijah also states that although the name of the club refers to the earlier topics of creative writing, he notes, "[W]e had to get creative with our D&D characters as well as role-playing in terms of the storyline."
Whether you love to write, illustrate, or enjoy playing D&D, this club has something great for you. It keeps changing and getting better, but it's always a place where students can be creative and make friends with other creative people. Join, explore, and make your mark on the ever-evolving canvas of creativity that is EHHS' Creative Club. Whether you're a freshman eager to dive into the world of creativity or a seasoned club member, the Creative Club welcomes you with open arms. The first meeting for the Creative Club will be on Wednesday, 9/27, in E110.
Fun Fact!
In its early days, the club was mostly for aspiring writers and artists. However, in 2014, the club members' desire to explore different kinds of creativity, began to participate in other activities. This led to the Creative Media Club, where they focused on filmmaking, short videos, and more. With this, in 2017, the senior members introduced the world of Dungeons and Dragons (D&D) to the club, allowing another form of creativity to begin. This tabletop role-playing game was very popular with members, evolving into a core component of the club's creative outlet.