The Top Ten Breakfast and EHHS Top Ten Seniors
Image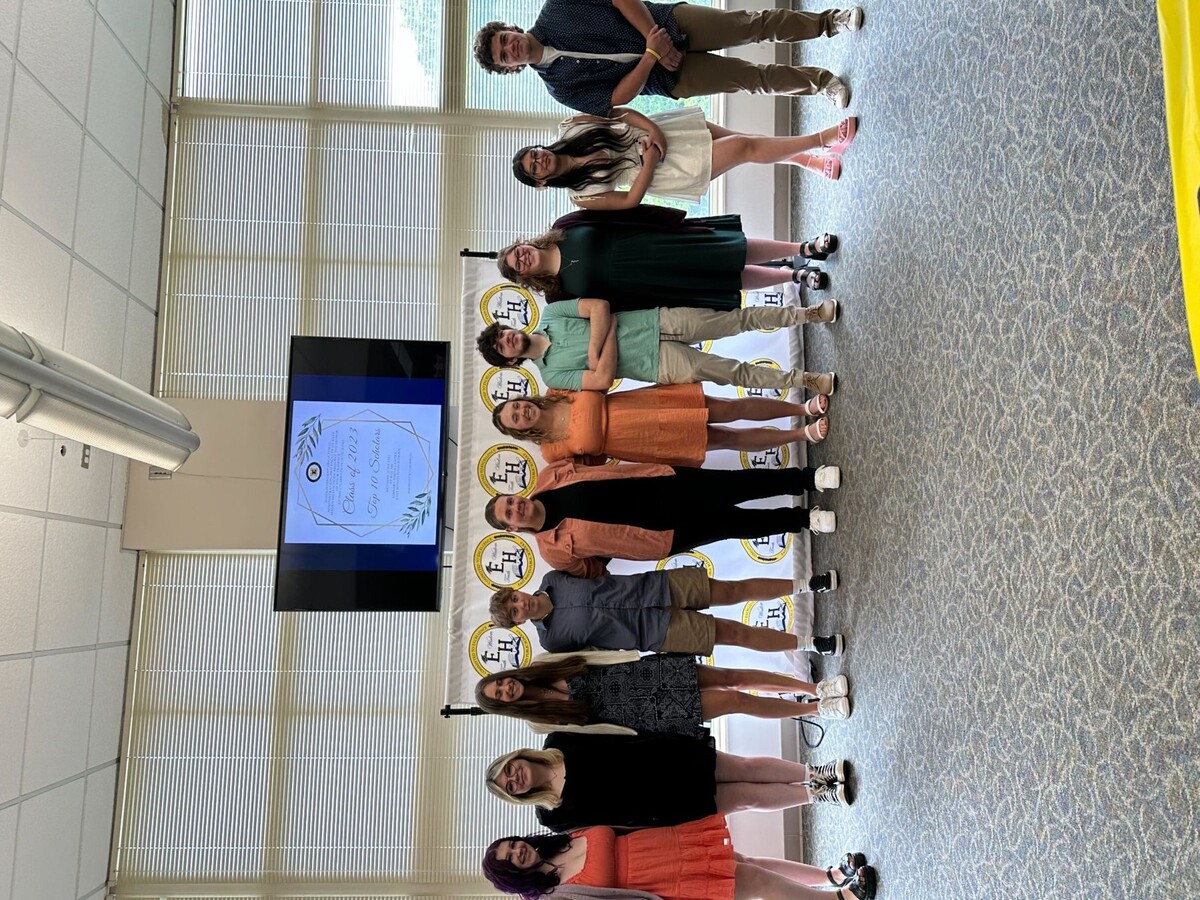 This year's Top Ten Breakfast took place on June 5, 2023, at 8:30 A.M. The top ten seniors at EHHS with the highest weighted GPAs are invited to bring their families and one teacher that has impacted them to a breakfast celebrating their achievement: The Top Ten Breakfast. Mrs. Susan Harkins, former science teacher and assistant principal of EHHS, organized this event for its first several years. She explained that "the ten senior students that rank the highest are notified of this distinction by the school principal." Parents are also notified and students select "a special educator (teacher, coach or guidance counselor), who has had a positive impact on their time at EHHS." This year's top ten seniors in order from one to ten are Izabella Olszewski (valedictorian), Amelia Westfall (salutatorian), Sydney Herard, Emilee Gargano, Autumn Clancy, Oliver Kabel, Ava Maroney, Courtney Carvajal, Kevin Lawlor, and Abigail Brooks. The teachers that each of these students chose to bring, respectively, are Mrs. Lisa Gardner, Mrs. Luisa Spadacenta, Ms. Ellery Riccio, Mrs. Carla Marsico, Mrs. Gayle Tracey, Mr. John Devany, Mrs. Danielle Picagli, Mr. Mark Tolla, Mr. Adam Gardner, and Mr. Bryson Wilson. The students, their families, and the teachers chosen attended along with the mayor, Joseph Carfora, Superintendent Erica Forti, Assistant Superintendent Dr. Jennifer Murrihy, and EHHS administrators.
EHHS 2023 valedictorian, Izabella Olszewski, who brought Mrs. Lisa Gardner was "[H]onored to go to because it is such a great achievement, and always trying [her] best in school paid off." Izzy decided to bring Mrs. Gardner because she has provided her with a lot of support since her sophomore year in the 2020-2021 school year. Izzy said, "She has been my fav for a while because I have done yearbook club with her my junior and senior year and I had her sophomore and senior year. She is fun to be around and even though I have never really liked English class in the past, I like English class because of her." Izzy believes Mrs. Gardner has positively impacted her through high school by always helping her, being easy to talk to, and always giving her a class to look forward to. Izzy said she wasn't particularly trying to be in the top ten, but it was always a goal; "I wanted it, but didn't go out of my way to get here. I studied a lot and did a lot of work, but never let the stress affect my mindset." She thinks underclassmen should work toward the top ten because it helps them get into colleges and in the future.
Mrs. Gardner was very excited and flattered to be asked to attend The Top Ten Breakfast with Izzy and did not expect it. Mrs. Gardner said, "Over the years I've known Izzy she has grown a lot. She is way more confident and outgoing now than she was as a sophomore, she seems more comfortable in her own skin, she is a beautiful writer, and a very smart girl. She continuously puts forth her best effort which is why she always does so well."
EHHS 2023 salutatorian, Amelia Westfall, who brought Mrs. Luisa Spadacenta, said, "I am excited to be in the top ten and to go to the breakfast. It is a big accomplishment." Amelia wanted to bring Mrs. Spedacenta because she feels she is a very good teacher and wants to recognize her success. Amelia said she did not know Mrs. Spadacenta until her junior year when she had Spanish four, but throughout that year, Mrs. Spadacenta was always willing to stay after and help her. Amelia said, "You know you could always go talk to her or ask for advice. She is one of the only teachers I have had that I had this relationship with, so it was very impactful for me." Amelia always had the goal to be number one or two in her class. It was difficult to achieve because it meant many hours of studying, a lot of extra help, and many meetings with teachers. During her first two years of high school, she mainly focused on academics and during her second two years of high school she made more space for other activities in her life. She said, "It took a lot of time, anxiety, and stress to get here… but it is worth it. Not because of the accolades of being number one or two, but because there are valuable lessons you learn from working so hard." Amelia is going to Providence College and believes that being in the top ten helped her get accepted.
This was Mrs. Spadecenta's first time being asked to the breakfast and she was honored and surprised Amelia asked her. Mrs. Spadecenta said, "Since I met Millie in Spanish four last year she has always been hard-working, ambitious, and has always seen obstacles as learning experiences."
Sydney Herard, who brought Ms. Ellery Riccio to the breakfast, said, "Even though I haven't known her that long, she is one of the only teachers I've really made a connection with." Sydney said Ms. Riccio is always understanding, supportive, and talks to you as an equal; "[Mrs. Riccio] provides a space for almost any student to be open with an adult." Sydney said she didn't have intentions of getting in the top ten and wasn't going out of her way to get there, but rather this spot just came with her hard work in school. Sydney also said she is glad to beat her sister, Marley Herard, by seven spots since Marley was number ten in her class. Sydney is going to Connecticut College and believes it was not only being in the top ten that got her accepted, but also her diverse resume played a role.
Ms. Riccio said she was honored to be asked by Sydney and since they have such a strong relationship she was hoping Sydney would ask her, but was still surprised when it happened. Ms. Riccio said she has had Sydney in two classes and she always had one of the highest grades in both. She said Sydney is "very hard-working, very motivated, and has a great personality." Mrs. Riccio feels that Sydney has "become herself" and she is proud of the relationship they have with each other.
Kevin Lawlor brought Mr. Adam Gardner and was excited to be in the top ten because it is "fulfilling to achieve." Kevin said, "History is my favorite subject and I have taken many classes in the history wing because of Mr. Gardner." Kevin has a close relationship with Mr. Gardner, which positively impacted him throughout high school. Kevin said he only really started thinking about getting in the top ten at the end of his junior year. He took some difficult classes throughout high school, but said he was never worried about his grades, instead, he was usually happy with the grades he got. Kevin thinks underclassmen should try to get in the top ten and work towards that goal each year instead of mostly at the end, like him. He said, "If you have a bad year it's difficult to get in the top ten so working hard early on is important."
Mr. Gardner said of the invitation, "It is good to know that what you do matters and that you had an impact on someone's life." Mr. Gardner has known Kevin since his freshman year and is happy to say Kevin's character has not waned in any way; "He has always been a hardworking student that makes the most out of any situation. He likes to apply humor to any situation he is in and make everything fun." He also said, "It is nice to see him rise up and be celebrated at an occasion like this and put his 'Kevin touch' on it." In Mr. Gardner's speech at the breakfast, he said he likes to think in situations like this "What would Kevin do?" to make things more fun.
At the Top Ten Breakfast, students gave speeches about the teacher they brought and teachers gave speeches about their student. In Mr. Wilson's speech about Abby Brooks, he said, " Ms. Brooks proved to be one of the bravest of her bunch, answering my questions whether she knew the answers or not. In those moments I was proud of her bravery and more than a little grateful for her empathy." In Mr. Tolla's speech about Courtney Carvajal, he said, "She is an extremely conscientious student, hardworking, and curious… I truly love her intensity and drive to be successful and she is going to have a bright future in whatever she choses." In Ms. Picagli's speech about Ava Maroney, she said, "Ava is a true example of a student that works hard, has a positive attitude, and is always willing to go the extra mile to achieve all of her goals… I have no doubt that she will continue to achieve great things in her future both at URI and in her personal life." In Mr. Devany's speech to Oliver Kabel, he said, "From the first day I met him I was so impressed… I thought 'This kid is going to do big things'... I am honored and grateful to call Oliver my friend as well as my President of FBLA and I wish him and all of you success." Mr. Devany also described Oliver as "intelligent," "wicked smart," "funny," "ambitious," "motivated," "well-liked," "thoughtful," and "a leader." In Mrs. Tracey's speech about Autumn, she said, "Autumn will be a wonderful healthcare provider. Her patients will love her for her patience, her caring, and her ability to explain what is going on with their problem… It has been a pleasure being her teacher and you are indeed very beautiful inside and out." In Mrs. Marsico's speech about Emilee Gargano, she said, "She is a serious scholar-leader and a fine young woman… amazes me most about Emilee is her resilience and her perseverance. She just drives over her challenges and keeps on going, striving towards her goals. I am positive that she will do great things at UVM."
The Top Ten Breakfast at EHHS began in 2018 after superintendent Erica Forti heard about it from a colleague that worked in another town. Ms. Forti said, "It is really powerful when you hear from students how impactful the work of an educator is on a student's life. Students may not thank educators every day, but that one moment reminds you that the work really matters." Ms. Forti expressed that The Top Ten Breakfast not only celebrates the relationship between students and teachers and the academic success of the students, but it also allows students to really think about the educators that have impacted them and provided them with a level of support that got them to where they are today. Ms. Forti said, "Regardless of whether you are in the top ten or not, take the time to thank your teachers because it matters and they appreciate it. It is gratifying to know that they are making a difference in student's lives."
Mrs. Susan Harkins shared, "It was a wonderful opportunity to recognize this special achievement in front of family, educators, and other school officials. It is certainly a proud moment for all involved." She thinks it is important to hold this event because it recognizes our student leaders and our staff who inspire and encourage students to achieve their goals. She said, "Without this celebration, some teachers may never have realized how special they truly are. What an amazing feeling!"